48HourVisit.com

Planning a short visit? Check out

48HourVisit.com

, your online guide for short stays and weekend getaways.

Ad

The Glossary

Ni-Vanuatu - "The term referring to Vanuatu locals."
Vanuatu Travel Guide

/
South Pacific
/
Vanuatu
/ Introduction
A rich Melanesian culture mixed with striking peculiarities make Vanuatu's identity unique among the South Pacific countries: Australia to the east, Fiji to the west, and Solomon Islands in the southeast. Consisting of about 82 small islands, Vanuatu is home to oddities such as cults worshipping UK's Prince Phillip, villages with gender segregation schemes, and people collecting round-snouted pigs as a symbol of wealth. This Melanesian island republic, which has the world's highest density of vernacular speakers, was juggled between French and British hands before it attained its independence in 1980.
Previously called New Hebrides Islands, Vanuatu is divided into six autonomous provinces, which form a parliamentary democracy that is internationally famous for not charging taxes. Vanuatu's tourism and financial life revolves around Port Vila, the capital and also the largest city.
The locals, called Ni-Vanuatus, speak provincial dialects as the lingua franca, followed by Bislama, or Melanesian blended with English, as the second language. Ni-Vanuatus entertain guests in nakamals or village clubhouses, which have special areas for menstruating women. Slit gongs, rattles and idophones or drums of various sizes are played in nakamals, but reggaeton or hip-hop rapped in Spanish is the tourists' favorite. Kava (pepper root) drinks are also served, as well as steaks, which are among the country's best since animals are naturally grown without artificial feeds.
As part of the Australasia ecozone, Vanuatu has rainforests and clear dive sites. Among the things to see are a shipwrecked Titanic-like luxury liner; the world's most accessible active volcano in Tanna; Malekula's strange dances; and a giant banyan tree the size of a football field. Activities such as rappelling down a waterfall or crossing a cave of stalactites are also part of a Vanuatuan trip.
Vanuatu Landmarks:
Vanuatu Traveler Advice
User blogs:
The Easy Way to Find Your Next Flight
Not everyone has experienced the convenience of looking for and booking air travel online. For some people who are not used to online shopping, or for those learning how to browse for the first time it can be a little intimidating at first. It seems like there are a lot of advertisements telling people where to go to book their flight online, but not many articles that take a step-by-step approach ... Read full Blog post
The biggest problem traveling with Bike
The biggest problem for traveling by bike is Transport to the start and from the end of our trip. As a personal trainer I had no big problem with this but I remember like it was yesterday, especially when they come these hot days, when we were kids (that a few decades ago) the only opportunity we had to practice was to grab our bikes cycling, upload them to the door of our house and out from ... Read full Blog post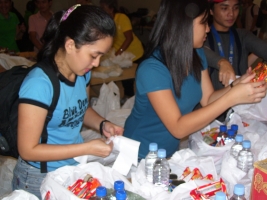 Volunteering for typhoon Ketsana victims
"There's nothing stronger than the heart of a volunteer," says a general in the movie Pearl Harbor. True enough, typhoon Ondoy (internationally nicknamed Ketsana) may have proven its might by destroying hundreds of lives and hundreds more in houses and properties, yet this monster-of-a-calamity did not win in devastating the faith and Good Samaritan-spirit of thousands of men and ... Read full Blog post