48HourVisit.com

Planning a short visit? Check out

48HourVisit.com

, your online guide for short stays and weekend getaways.

Ad

The Glossary

chevere - "means "cool." What to say to a local if you want to praise the food or anything that you find interesting."
Peru Travel Guide

/
South America
/
Peru
/ Introduction
Along with neighbors Brazil and Argentina, Peru stands as one of South America's most popular and interesting destinations. Few places in the world have as much to offer visitors as it, featuring diversity in its landscape, culture, archaeology, and history. It is a country where one will find beaches lying near ancient imperial tombs and treasures, not to mention soaring mountain ranges near modern cities like its capital Lima.
As such, tourism makes up a large chunk of Peru's economy - its third-largest industry behind fishing and mining. And the best part is that it is still growing at a rate of 25 percent over the past five years, faster than any other country in the continent. Name it, and Peru has it: adventure, nature, beach, historical, colonial, or gastronomical tourism. No wonder that the satisfaction rate for visitors to the land is a whopping 94 percent.
Land of the Incas
Of course, no mention of Peru would be complete without touching on the subject that is the Inca Empire. Once the largest empire in pre-Colombian South America, it was born right in the country's highlands during the 13th century and controlled a large part of the continent's western portion. Though it only existed for less than a century before collapsing at the hands of the Spanish conquistadors, the empire has become one of the most legendary and mysterious. This was largely because of myths regarding its immense gold wealth, unique architecture, and bizarre traditions.
A tourist's Incan adventure often begins with the empire's heart - its former capital of Cusco. A World Heritage Site, it is visited by more than a million people every year, owing to its well-preserved archaeological sites. Another is the famed Macchu Picchu, which has been given the tag, "The Lost City of the Incas." Attracting no less than a thousand visitors every day, it has become somewhat of a symbol of the Inca Empire with ancient ruins such as the Temple of the Sun, Intihuatana, and Room of the Three Windows.
Peruvian Adrenaline
While touring the Incan trails may be the highlight of a visit to Peru, indulging in adventure tourism comes as a close second. The country features a ruggedly beautiful terrain, a cauldron of Amazon forests, Andean mountains, and Pacific coasts. Mountain climbing and treks are popular activities here, especially at the 6,768-meter high Mt. Huascaran and the jagged peaks of Cordillera Blanca.
Beach junkies invariably head to the resorts at Lima and Trujillo, while those with surfing and scuba diving itches go to Paracas. Peru is also ideal for fishing trips - the largest lake in South America, Titicaca, shares its borders. Adrenaline junkies can try their hand at paragliding at some of the deepest canyons in the world at Arequipa.
Peru Traveler Advice
User blogs:
The Easy Way to Find Your Next Flight
Not everyone has experienced the convenience of looking for and booking air travel online. For some people who are not used to online shopping, or for those learning how to browse for the first time it can be a little intimidating at first. It seems like there are a lot of advertisements telling people where to go to book their flight online, but not many articles that take a step-by-step approach ... Read full Blog post
The biggest problem traveling with Bike
The biggest problem for traveling by bike is Transport to the start and from the end of our trip. As a personal trainer I had no big problem with this but I remember like it was yesterday, especially when they come these hot days, when we were kids (that a few decades ago) the only opportunity we had to practice was to grab our bikes cycling, upload them to the door of our house and out from ... Read full Blog post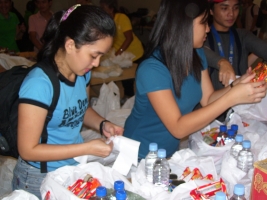 Volunteering for typhoon Ketsana victims
"There's nothing stronger than the heart of a volunteer," says a general in the movie Pearl Harbor. True enough, typhoon Ondoy (internationally nicknamed Ketsana) may have proven its might by destroying hundreds of lives and hundreds more in houses and properties, yet this monster-of-a-calamity did not win in devastating the faith and Good Samaritan-spirit of thousands of men and ... Read full Blog post