48HourVisit.com

Planning a short visit? Check out

48HourVisit.com

, your online guide for short stays and weekend getaways.

Ad

The Glossary

Sim - "A holy building."
For decades, Laos has been the most misunderstood destination in Southeast Asia, often overshadowed by its neighbors Thailand, Vietnam, and Cambodia. Obscured by self-imposed isolation and war, it has at the turn of the new millennium finally opened itself to the world, especially with its communist government granting the Laotians a healthy dose of personal freedom.
Since then, the country has assumed its current standing as one of the region's most popular destinations, as evidenced by the some 1.1 million foreign tourists arriving there every year since 2005. It has even been declared by the New York Times as one of the world's 53 great places to visit, with attractions ranging from its capital Vientiane's village appeal to historic Luang Prabang's centuries-old monasteries.
Unfamiliar Terrain
Years of isolation and obscurity comes with its share of advantages, though. Case in point: Laos' vastly undisturbed wilderness, which is a big draw among the adventure and nature travelers. In this regard, northern Laos' forest-carpeted mountains, Si Phan Don's four thousand islands, and the Bokeo Nature Reserve's diverse wildlife take center stage.
The country has also been able to move into the modern age without losing sight of its traditions and culture (yet), something that many of its contemporaries have. Travelers are bound to see groups of robe-clad monks make their rounds around town, as well as experience the Laotian rural life in a national capital.
Lao PDR (Please Don't Rush)
Lao PDR means the "Lao People's Democratic Republic," although it is often quipped as "Lao - Please Don't Rus." This was born out of the idea that the best way to take in the country's essence is to do it slowly - and never hurry. It is the reason why the most common attraction for travelers is to engage in community-based treks that take one through Laos's wilderness and villages.
In Laos, slow is better. Travelers like to cozy up in hammocks, suspended in time while gazing at the lovely sights along the Mekong River or the limestone massifs in Vang Vieng.
Laos Landmarks:
Laos Traveler Advice
User blogs:
The Easy Way to Find Your Next Flight
Not everyone has experienced the convenience of looking for and booking air travel online. For some people who are not used to online shopping, or for those learning how to browse for the first time it can be a little intimidating at first. It seems like there are a lot of advertisements telling people where to go to book their flight online, but not many articles that take a step-by-step approach ... Read full Blog post
The biggest problem traveling with Bike
The biggest problem for traveling by bike is Transport to the start and from the end of our trip. As a personal trainer I had no big problem with this but I remember like it was yesterday, especially when they come these hot days, when we were kids (that a few decades ago) the only opportunity we had to practice was to grab our bikes cycling, upload them to the door of our house and out from ... Read full Blog post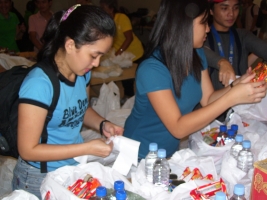 Volunteering for typhoon Ketsana victims
"There's nothing stronger than the heart of a volunteer," says a general in the movie Pearl Harbor. True enough, typhoon Ondoy (internationally nicknamed Ketsana) may have proven its might by destroying hundreds of lives and hundreds more in houses and properties, yet this monster-of-a-calamity did not win in devastating the faith and Good Samaritan-spirit of thousands of men and ... Read full Blog post