48HourVisit.com

Planning a short visit? Check out

48HourVisit.com

, your online guide for short stays and weekend getaways.

Ad

The Glossary

repos - "The people's habit of going on "repos" or siesta from noon to 3 pm. This means that businesses and shops in the country are closed during this time."
Burkina Faso Travel Guide

/
Africa
/
Burkina Faso
/ Introduction
It may be one of the world's poorest nations, but Burkina Faso is among the friendliest and safest of countries in the continent. It may be landlocked and deprived with rain and natural resources, but this western African parliament is stuffed with wildlife safaris, eclectic cultural mixes, assorted landscapes, and flamboyant film fests that earned it the badge of honor as the "Cannes" of Africa.
Formerly known as Haute or Burkina, Burkina Faso still dons much of its pre-colonial charm as Upper Volta, the land of empire-building Mossi. The nation today is halved between the Voltaic Mossi and the Mande. The Voltaic Mossi, the majority population, descended from the warriors of Ghana. These warrior ancestors established an empire in Burkina Faso more than 800 years ago.
Although most of the people today are farmers or workers of government-owned corporations, the Mossi empire still lives on. The kingdom today is led by a king, whose court is in Ouagadougou, considered as one of East Africa's most enjoyable pilot cities for its friendly people and fine hotels and nightspots. The restaurants here serve typical Burkinabè fare like Banji, Palm Wine or fermented palm sap, as well as Tô (jelly-like millet or corn) and Poulet Telévisé, roast chicken or "televised chicken" since the chicken looks like watching TV when cooked.
As a former French colony, Burkina Faso recognizes French as the official language in theory, but in practice, many African languages such as Mooré are frequently used. The French also shared their passion for film among the Burkinabè, and Burkina Faso's filmmakers and week-long film festival today are internationally acclaimed. The traditional Burkinabè theater arts also combine French influences with traditional ethnic ritual ceremonies such as masked dances.
Apart from the French, the Muslims and the pervading Islamic religion also have their effects on Burkinabè culture. This is particularly palpable in Bobo-Dioulasso, whose Moslem Old Quarter boasts of Grande Mosquée, a Sudanese mud architecture. Of the country's Muslim souks, the biggest is Gorom-Gorom's Thursday Market, where people from all points of the country gather to sell their ethnic tapestries, jars, and fresh produce.
South of Burkina Faso is Tiébélé, with its vividly-painted houses that dabble as fortresses. In Timbuktu, the nomad Tuareg tribesmen live on mushroom-shaped tents while in Sindou, the villagers' circular mud houses are set on a backdrop of hippos and otherworldly landscape.
Burkina Faso Landmarks:
Burkina Faso Traveler Advice
User blogs:
The Easy Way to Find Your Next Flight
Not everyone has experienced the convenience of looking for and booking air travel online. For some people who are not used to online shopping, or for those learning how to browse for the first time it can be a little intimidating at first. It seems like there are a lot of advertisements telling people where to go to book their flight online, but not many articles that take a step-by-step approach ... Read full Blog post
The biggest problem traveling with Bike
The biggest problem for traveling by bike is Transport to the start and from the end of our trip. As a personal trainer I had no big problem with this but I remember like it was yesterday, especially when they come these hot days, when we were kids (that a few decades ago) the only opportunity we had to practice was to grab our bikes cycling, upload them to the door of our house and out from ... Read full Blog post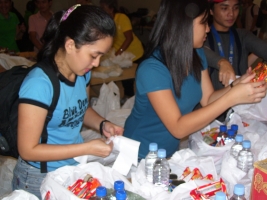 Volunteering for typhoon Ketsana victims
"There's nothing stronger than the heart of a volunteer," says a general in the movie Pearl Harbor. True enough, typhoon Ondoy (internationally nicknamed Ketsana) may have proven its might by destroying hundreds of lives and hundreds more in houses and properties, yet this monster-of-a-calamity did not win in devastating the faith and Good Samaritan-spirit of thousands of men and ... Read full Blog post