48HourVisit.com

Planning a short visit? Check out

48HourVisit.com

, your online guide for short stays and weekend getaways.

Ad

The Glossary

Cholitas - "donkey, a common mode of transportation in Bolivia, especially in the highlands."
South America Travel Guide

/
South America
/ Introduction
South America is a continent which is dominated by a rare passion for life. It is surrounded by the Pacific Ocean on the west and by the Atlantic Ocean on the north and east side while North America and the Caribbean Sea lie on its northwest direction.
South America is dominated by a large number of important landmarks and can keep an enthusiastic photographer very busy with all the images to be captured. One of its most important landmarks is the Angel Falls, in Venezuela, which is the world's highest waterfall. South America also has another important feature - the Amazon River - the largest in the world. Other landmarks which compliment this continent are, the Andes which are considered as the longest mountain ranges in the world. The Atacama Desert is the ultimate test to check your patience against nature's toughest conditions. Nature lovers can look forward to the largest rainforest in the world - the Amazon Rainforest which contains an endless list of exciting species.
Music lovers will get a chance to check their music and dancing skills when they will experience the cumbia, samba, bossa nova, and the tango among a large list of rhythm and beats in South America. When you are in Brazil, move towards Rio if partying is in your blood. It is dominated by pubs, nightclubs and restaurants. Sao Paulo is another good option as its clubs offer a fine blend of western as well as modern styles.
Bolivia has the Salar de Uyuni, it's the largest salt flat in the world. Use this opportunity to experience the miraculous effect of the geysers and hot baths and allow it to rejuvenate you. Buenos Aires offers art lovers a chance to visit its refined list of theatres, museums and art galleries. Operas and ballets are hosted by the Teatro Colon, a seven-storey theatre. Monuments in Buenos Aires which are a must on every visitor's list are the Cementerio de la Recoleta, the Casa Rosada and the Basílica de Santo Domingo.
La Paz's tourist-friendly climate welcomes you to get a first-hand experience of its colourful customs and traditions which can be absorbed only at this end of the world. The Witches' Market offers a rare chance to pick up herbs and traditional Aymara medicines. A visit to South America is truly a chance to get your colorful nature out of you.
South America Landmarks:
South America Traveler Advice
South America photography
User blogs:
The Easy Way to Find Your Next Flight
Not everyone has experienced the convenience of looking for and booking air travel online. For some people who are not used to online shopping, or for those learning how to browse for the first time it can be a little intimidating at first. It seems like there are a lot of advertisements telling people where to go to book their flight online, but not many articles that take a step-by-step approach ... Read full Blog post
The biggest problem traveling with Bike
The biggest problem for traveling by bike is Transport to the start and from the end of our trip. As a personal trainer I had no big problem with this but I remember like it was yesterday, especially when they come these hot days, when we were kids (that a few decades ago) the only opportunity we had to practice was to grab our bikes cycling, upload them to the door of our house and out from ... Read full Blog post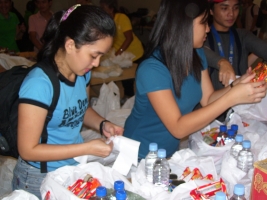 Volunteering for typhoon Ketsana victims
"There's nothing stronger than the heart of a volunteer," says a general in the movie Pearl Harbor. True enough, typhoon Ondoy (internationally nicknamed Ketsana) may have proven its might by destroying hundreds of lives and hundreds more in houses and properties, yet this monster-of-a-calamity did not win in devastating the faith and Good Samaritan-spirit of thousands of men and ... Read full Blog post