48HourVisit.com

Planning a short visit? Check out

48HourVisit.com

, your online guide for short stays and weekend getaways.

Ad
Australia Travel Guide

/
South Pacific
/
Australia
/ Introduction
At around 7.6 million square kilometers in size, Australia is the only country that is a continent unto itself - as geography classes would usually teach. People often refer to it simply as the "Outback" or "Land Down Under," a reference to rugged terrain and location near the bottom of the globe. Despite its seeming isolation, Australia it is actually one of the most cosmopolitan countries in the world, especially in famous cities like Sydney, Melbourne, Canberra, and Brisbane.
Not surprisingly, Australia is a definite favorite among tourists. Some 5.1 million tourists visit it every single year, generating more than 8.1 billion USD in revenue. A vast majority of them are drawn by the country's nearly 7,000-strong beaches spread out across a 25,800-kilometer coastline. Swimming, diving, snorkeling, and water sporting are all the better when there are over a hundred thousand lifesavers keeping watch. Others are captivated by natural wonders, such as the famous Uluru and the Great Barrier Reef.
Kangaroos and Deadly Snakes
Aside from beaches, the country is well-documented as a hotspot for unique and diverse flora and fauna. Case in point: the ever-popular kangaroos, Tasmanian devils, tarantulas, and death adders. Since Australia is considered a mega-diverse country (especially with a landscape made up of deserts, rainforests, alpine peaks, and sandy coasts), that is only to be expected. There are roughly 755 species of reptiles to be found here - more than any other nation. Not to mention that 84 percent of its wildlife are considered endemic, or unique to the land.
Nature lovers are bound to satisfy their urges at sites like the Kakadu National Park. It is the largest in Australia, and is regarded as one of the "must-sees" in the land. Other worthy destinations are Tasmania, Yorke Peninsula, Ningaloo Marine Park, and the North Stradbroke Island.
From the Aborigines to the British
Visitors are also bound to discover the immense cultural heritage in the country. Inhabited since more than 48,000 years ago, notably the Australian Aborigines, their ancient oral culture and spiritual values have survived to this day. Most of these heritages can be experienced in sites like the Kakadu National Park and Yorke Peninsula, where descendants of these indigenous people are found. Or, one can attend the so-called Dreaming Festival that celebrates Aborigine art and culture.
The second major part of Australia's history occurred in 1770, when the famed British explorer James Cook landed on the island's shores and claimed it as a British territory. Though independence had long been achieved since the early 20th century, the foreign influence remains strong: English is the Australian national language, and its major cities like Sydney brim with colonial architecture.
Australia Traveler Advice
User blogs:
The Easy Way to Find Your Next Flight
Not everyone has experienced the convenience of looking for and booking air travel online. For some people who are not used to online shopping, or for those learning how to browse for the first time it can be a little intimidating at first. It seems like there are a lot of advertisements telling people where to go to book their flight online, but not many articles that take a step-by-step approach ... Read full Blog post
The biggest problem traveling with Bike
The biggest problem for traveling by bike is Transport to the start and from the end of our trip. As a personal trainer I had no big problem with this but I remember like it was yesterday, especially when they come these hot days, when we were kids (that a few decades ago) the only opportunity we had to practice was to grab our bikes cycling, upload them to the door of our house and out from ... Read full Blog post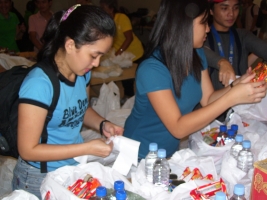 Volunteering for typhoon Ketsana victims
"There's nothing stronger than the heart of a volunteer," says a general in the movie Pearl Harbor. True enough, typhoon Ondoy (internationally nicknamed Ketsana) may have proven its might by destroying hundreds of lives and hundreds more in houses and properties, yet this monster-of-a-calamity did not win in devastating the faith and Good Samaritan-spirit of thousands of men and ... Read full Blog post