48HourVisit.com

Planning a short visit? Check out

48HourVisit.com

, your online guide for short stays and weekend getaways.

Ad

The Glossary

Kula Ring of Exchange - "A trade ceremony conducted in some regions of Papua New Guinea. Most trade items are jewelry and the like, to enhance one's social status."
Papua New Guinea Travel Guide

/
South Pacific
/
Papua New Guinea
/ Introduction
Papua New Guinea and Australia (which once claimed the country as territory) are polar opposite. They share a million-year history, but most of the similarities end there. One of the first things that tourists will notice is that the quality of life would never be mistaken as high. A third of its seven million or so population live roughly on less than 1.25 USD per day, and most of its airstrips are unpaved even though air travel is the most important mode for transport here.
Papua New Guinea's archipelago of around 600 islands stand as some of the least-explored in the world, whether geographically or culturally.
PNG: DIY
To some tourists, however, that fact is all the more reason to find Papua New Guinea as a compelling destination. PNG, as the country is often called, is endearing as a do-it-yourself kind of a place. There are few tour operators here, which means that visitors may have to set their own itineraries, as well as seek their own transportation - which is rough, given the country's rugged terrain.
Given PNG's varied landscape, it is hardly surprising that adrenaline junkies thrive here. Trekkers and mountain climbers can find their cup of tea at locations like the Chambri Region, as well as Mount Wilhelm (highest point in the country). Rapids at the Watut, Wahgi, and Purari Rivers are perfect for white-water rafting and fishing, while beach lovers and water sporting enthusiasts will find PNG's coasts at Port Moresby and Madang irresistible. While Australia is flat and dry, Papua New Guinea is wet and mountainous - chock-full of unique flora and fauna (some of which are believed to have not yet been discovered). Kangaroos here do not skip across plains, but live up in trees (the so-called tree kangaroo), and its tourism infrastructure is undeveloped.
Wigmen at the Highlands
Papua New Guinea, culturally, is also one of the megadiverse countries on Earth. There are about 820 indigenous languages spoken here, as tribal villages are still the norm - only 18 percent of its population chooses to live in urbanized areas. About a thousand cultural groups live in the country, each with their own unique traditions and customs, which manifest in their colorful festivals such as the Goroka Show and the Tumbuan Mask Festival.
A trip to PNG's jungles and highlands (such as in the Chambri Region) will often result in visitors meeting and mingling with local tribes. Perhaps the most known among them are the so-called Huli Wigmen - a 600-year old people noted for their red and yellow face paint and decorative wigs.
Papua New Guinea Traveler Advice
User blogs:
The Easy Way to Find Your Next Flight
Not everyone has experienced the convenience of looking for and booking air travel online. For some people who are not used to online shopping, or for those learning how to browse for the first time it can be a little intimidating at first. It seems like there are a lot of advertisements telling people where to go to book their flight online, but not many articles that take a step-by-step approach ... Read full Blog post
The biggest problem traveling with Bike
The biggest problem for traveling by bike is Transport to the start and from the end of our trip. As a personal trainer I had no big problem with this but I remember like it was yesterday, especially when they come these hot days, when we were kids (that a few decades ago) the only opportunity we had to practice was to grab our bikes cycling, upload them to the door of our house and out from ... Read full Blog post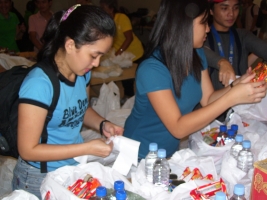 Volunteering for typhoon Ketsana victims
"There's nothing stronger than the heart of a volunteer," says a general in the movie Pearl Harbor. True enough, typhoon Ondoy (internationally nicknamed Ketsana) may have proven its might by destroying hundreds of lives and hundreds more in houses and properties, yet this monster-of-a-calamity did not win in devastating the faith and Good Samaritan-spirit of thousands of men and ... Read full Blog post