48HourVisit.com

Planning a short visit? Check out

48HourVisit.com

, your online guide for short stays and weekend getaways.

Ad
Saint Barthelemy Travel Guide

/
Caribbean
/
Saint Barthelemy
/ Introduction
The smallest island in the French West Indies, St. Barthelemy, or St. Barts, as it is more popularly known among the jetsetters, is a Caribbean island long considered to be the playground of the rich and famous. The island has more than twenty beaches, some of them quite calm, others with treacherous undertows. Bathing apparels range from expensive Dior bathing suits to the fearless soul going topless.
Throughout the island French influence can be found in its language, cuisine and culture, but a good amount of Swedish architectural influence are found in its streets and building designs. Although hardly a party island as what movies have conjured its nightlife to be, cocktails, models, actors and caviar permeate the atmosphere of this exclusive island resort.
The island's villas add color to the sophistication of the place as Europeans take leisurely strolls through its capital named after a Swedish King, Gustavia. Waterfront bistros and upscale French and Italian restaurants cater to an exclusive array of visitors that include millionaires, supermodels and famous celebrities like Richard Gere and model Giselle Bundchen. Still, the crayfish cooked with the best island herbs and spices remains the undisputed superstar of the island. Out here, freshness is a virtue.
North of Gustavia is a two-street fishing village named Corossol where one can watch women weave lantana straw into exotic baskets, hats and bags. One might take delight in the quichenotte, (which means kiss me not) a white bonnet customarily worn by French women during the Hundred Years' War. A few steps away from the village are the Inter Ocean Museum where more than 9,000 seashells are on display as well as sand collections from around the globe. Water sports, ranging from diving, boating and windsurfing is a great chance to get a glimpse of Saint Bart's beaches and stunning coves.
User blogs:
The Easy Way to Find Your Next Flight
Not everyone has experienced the convenience of looking for and booking air travel online. For some people who are not used to online shopping, or for those learning how to browse for the first time it can be a little intimidating at first. It seems like there are a lot of advertisements telling people where to go to book their flight online, but not many articles that take a step-by-step approach ... Read full Blog post
The biggest problem traveling with Bike
The biggest problem for traveling by bike is Transport to the start and from the end of our trip. As a personal trainer I had no big problem with this but I remember like it was yesterday, especially when they come these hot days, when we were kids (that a few decades ago) the only opportunity we had to practice was to grab our bikes cycling, upload them to the door of our house and out from ... Read full Blog post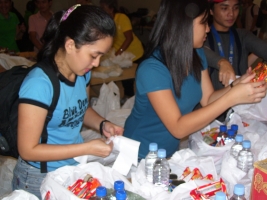 Volunteering for typhoon Ketsana victims
"There's nothing stronger than the heart of a volunteer," says a general in the movie Pearl Harbor. True enough, typhoon Ondoy (internationally nicknamed Ketsana) may have proven its might by destroying hundreds of lives and hundreds more in houses and properties, yet this monster-of-a-calamity did not win in devastating the faith and Good Samaritan-spirit of thousands of men and ... Read full Blog post