48HourVisit.com

Planning a short visit? Check out

48HourVisit.com

, your online guide for short stays and weekend getaways.

Ad

The Glossary

Joe - "a term usually used to connote an American citizen. it is popularly used by foreigners."
Arizona Travel Guide

/
United States
/
Arizona
/ Introduction
Arizona is a state which is located in the southwestern region of the United States. It has a proper desert climate. But there is a contrast too in this area. You can find pine forests and mountain ranges in the high country in the north. The Grand Canyon is its prime landmark. And the Grand Canyon National Park is one stop which cannot be ignored by any true lover of nature. The Grand Canyon National Park in Arizona is nature at its wildest. A visit to it would fulfill your every wish which simply cannot be realized at any other place on Earth. It has been has declared as a World Heritage Site by UNESCO in the past.
The sight of the Grand Canyon with the river rapids flowing on savagely can be a heavenly experience. It has been carved out by the Colorado River and is located in northern Arizona. The Grand Canyon is listed as one of the seven natural wonders of the world. It can be seen when you visit the Grand Canyon National Park. This gorge is the most awesome gorge in the world and gets an endless number of visitors every year. The Grand Canyon National Park covers a gigantic area of approximately 1,900 miles. The Park offers you an opportunity to move across largely rugged and remote places. You can use pack trails and backcountry roads to check your survival and camping skills.
The South Entrance offers the most mesmerizing viewpoints on offer. The park headquarters are located at Grand Canyon Village, which is close by from the South Entrance.
A visit to this park offers outdoor activity options like mule rides, hiking and biking. The ultimate thrill would be rafting on the majestic Colorado River. A ground tour or an air tour too can give you a detailed study of this natural wonder. Other options include geology tours and Jeep tours. The Grand Canyon Village has a number of lodging choices. They include the Kachina Lodge, the El Tovar Hotel, the Yavapai Lodge, Bright Angel Lodge & Cabins, the Thunderbird Lodge and the Maswik Lodge.
Hiking down to the Havasupai Falls, can be very rewarding while Lipan Point offers you the best view of the sunset. Backpackers can trek down the Bright Angel Trail and also visit the Vista Encantadora viewing area. Very rarely will a single trip to any destination offer such a wide variety of exciting options.
User blogs:
The Easy Way to Find Your Next Flight
Not everyone has experienced the convenience of looking for and booking air travel online. For some people who are not used to online shopping, or for those learning how to browse for the first time it can be a little intimidating at first. It seems like there are a lot of advertisements telling people where to go to book their flight online, but not many articles that take a step-by-step approach ... Read full Blog post
The biggest problem traveling with Bike
The biggest problem for traveling by bike is Transport to the start and from the end of our trip. As a personal trainer I had no big problem with this but I remember like it was yesterday, especially when they come these hot days, when we were kids (that a few decades ago) the only opportunity we had to practice was to grab our bikes cycling, upload them to the door of our house and out from ... Read full Blog post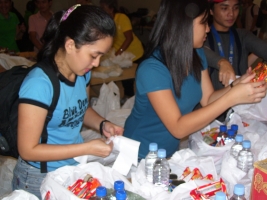 Volunteering for typhoon Ketsana victims
"There's nothing stronger than the heart of a volunteer," says a general in the movie Pearl Harbor. True enough, typhoon Ondoy (internationally nicknamed Ketsana) may have proven its might by destroying hundreds of lives and hundreds more in houses and properties, yet this monster-of-a-calamity did not win in devastating the faith and Good Samaritan-spirit of thousands of men and ... Read full Blog post