48HourVisit.com

Planning a short visit? Check out

48HourVisit.com

, your online guide for short stays and weekend getaways.

Ad
Even if it is the smallest Asian nation, Maldives has 1,192 palm-fringed coral islands, spread like rhinestones in the turquoise waters of the Indian Ocean. Only 200 of the islands are inhabited by people, but all atolls are home to sandbars, lush vegetation, and a diversity of sea life like whale sharks, manta rays, corals, eels, reef sharks, and over 2,000 species of fish. These made Maldives, one of the most ecologically diverse countries on Earth, also one of the top scuba diving and honeymoon destinations in the world.
Since Maldives is the lowest country on Earth with the lowest highest point on the planet (7'7" above sea level, Addu Atoll in Wilingili Island), it is the first country to be threatened with extinction by rising sea levels due to global warming.
Tropical paradise
Despite this, Maldives remains high on the map of sun, sea, and sand seekers due to the islands' quiet beaches and resort towns that offer peace and privacy. North of Ari Atoll is Nika Island, whose thatched bungalows are made of coral and surrounded by gardens. A more expensive retreat is Cocoa Island, where the cottages are made of white coral and the roofs are thatched with palm leaves. Catamaran fishing, windsurfing, and water skiing are popular here.
Cultural and architectural hodgepodge
Nevertheless, the star of Maldives' diving and honeymoon destinations is Male, the capital and largest city in terms of population. With an area of 3 square kilometers, Male is easily traversable on a motor bike. On foot, the island can be covered in 20 minutes. Male is the concentration of the social elites in Maldives' caste system. The city, too, is a cultural melting pot encompassing the Aryans, Dravidians, Arabs, and Africans, which left artistic and architectural legacies to the country in the form of the gold-roofed Grand Friday Mosque, the coral engravings of Old Friday Mosque, and the royal and Buddhist collections of the National Museum.
Such different cultures have also made Maldives a hub for shopping woven mats, lacquer work, and jewelry made of tortoise shells, mother of pearl, and red and black corals.
Maldives Traveler Advice
User blogs:
The Easy Way to Find Your Next Flight
Not everyone has experienced the convenience of looking for and booking air travel online. For some people who are not used to online shopping, or for those learning how to browse for the first time it can be a little intimidating at first. It seems like there are a lot of advertisements telling people where to go to book their flight online, but not many articles that take a step-by-step approach ... Read full Blog post
The biggest problem traveling with Bike
The biggest problem for traveling by bike is Transport to the start and from the end of our trip. As a personal trainer I had no big problem with this but I remember like it was yesterday, especially when they come these hot days, when we were kids (that a few decades ago) the only opportunity we had to practice was to grab our bikes cycling, upload them to the door of our house and out from ... Read full Blog post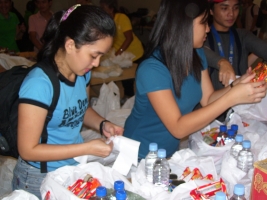 Volunteering for typhoon Ketsana victims
"There's nothing stronger than the heart of a volunteer," says a general in the movie Pearl Harbor. True enough, typhoon Ondoy (internationally nicknamed Ketsana) may have proven its might by destroying hundreds of lives and hundreds more in houses and properties, yet this monster-of-a-calamity did not win in devastating the faith and Good Samaritan-spirit of thousands of men and ... Read full Blog post