48HourVisit.com

Planning a short visit? Check out

48HourVisit.com

, your online guide for short stays and weekend getaways.

Ad

The Glossary

Bento - "A Japanese lunch box; A meal."
Whether you are keen in taking photographs of a reproduction of the Eiffel Tower, musing in the Zen temple, zooming down in a capsule or just surfing in an indoor wave you better be prepared to be surprised. Whether you are caught between the elegant formality of the Japanese manners or the candies and sometimes boisterous exchange that occur over a few drinks or between the clean and sanitized shopping malls and the vibrant, rural festivals, everyone has their own vision and perception of Japan.
Japan is separated from the east coast of Asia by the Sea of Japan. It's four main islands are Honshu, Shikoku, Kyushu and Hokkaido. Most of the islands are mountainous and many volcanic. Mt. Fuji, Japan's highest peak is a volcano. There are many reasons to visit Hiroshima, western japans largest city. A trip to Japan will be memorable and unique only if the city of Hiroshima is included in the itinerary. Hiroshima is abundantly supplied with the beauty of its natural flora and fauna and the lush growth of fresh sea food and vegetable from the mountain farms. Of course one cannot miss the Memorial Peace Peak and Peace Museum in Hiroshima that offers an ongoing testimony of the fear of war and the fading hope of lasting peace through out the world. You can also spend your day visiting the enticing temples and shrines in the magical island of Miyajima accompanied with a short shopping spree from the local shops and street stalls.
Japan has such a kaleidoscopic blend of ritual and history with its diverse and counter cultures, pat wounds and future dreams, shrines, temples, gardens and the various glittering cites that it would be difficult to fit it all in a single holiday package. The Tokyo National Museum is one tourist attraction that is worth a visit. It houses a very impressive collection of profound Japanese art ranging from sculptures to swords to calligraphy. You can also get a classic view of Mt. Fiji form the bullet train as it passes the city of Fiji. The mountain is usually visible only in the morning before it retreats behind a curtain of haze and clouds. The constant level of energy and drama is the most striking aspect of Japan's capital city Tokyo. Tokyo is a perfect blend of urgent rhythms of consumer culture that collide with the quieter and moments that linger from the older traditions. Tokyo is a true miracle after all that it has sustained post world war-2.
Japan Landmarks:
Japan Traveler Advice
Japan photography

japanese monument by
Zhuchiko

Foliage by
Communitriper

Osaka @ Night by
Communitriper

Tokyo map by
Communitriper
User blogs:
The Easy Way to Find Your Next Flight
Not everyone has experienced the convenience of looking for and booking air travel online. For some people who are not used to online shopping, or for those learning how to browse for the first time it can be a little intimidating at first. It seems like there are a lot of advertisements telling people where to go to book their flight online, but not many articles that take a step-by-step approach ... Read full Blog post
The biggest problem traveling with Bike
The biggest problem for traveling by bike is Transport to the start and from the end of our trip. As a personal trainer I had no big problem with this but I remember like it was yesterday, especially when they come these hot days, when we were kids (that a few decades ago) the only opportunity we had to practice was to grab our bikes cycling, upload them to the door of our house and out from ... Read full Blog post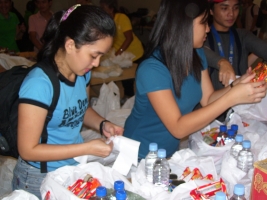 Volunteering for typhoon Ketsana victims
"There's nothing stronger than the heart of a volunteer," says a general in the movie Pearl Harbor. True enough, typhoon Ondoy (internationally nicknamed Ketsana) may have proven its might by destroying hundreds of lives and hundreds more in houses and properties, yet this monster-of-a-calamity did not win in devastating the faith and Good Samaritan-spirit of thousands of men and ... Read full Blog post