48HourVisit.com

Planning a short visit? Check out

48HourVisit.com

, your online guide for short stays and weekend getaways.

Ad
Liechtenstein Travel Guide

/
Europe
/
Liechtenstein
/ Introduction
The charm of Europe is on exhibition from the Urals to the Iberian Peninsula. Midway lies the enchanting Alps. Dissected by the Rhine, a valley of stupefying scenery beckons the land rovers. Amid such splendor, Liechtenstein nestles between its larger neighbors- Switzerland and Austria. It is the last remnant of the Roman Empire.
It has abstained from all sorts of armed conflict since its sovereignty in 1806. It stayed neutral even during the World Wars and has focused on economic development instead. The residents enjoy an exceptionally high standard of living. Low taxes and solid financial policies have attracted banks and clients alike to this center of commerce.
Though this Principality is spread over just 160 sq. kms., it contains many attractions. Apart from the Alpine landscape, Liechtenstein has other architectural monuments to offer its visitors. Getting around is a cakewalk as there are various options like the efficient bus service and hitch-hiking. The best way to fully enjoy the region is probably to hike. With three fabulous camping sites and generous guidance at hand, even a novice can safely explore the rocky rises. Simple safety precautions like a weather-check and sticking to the oft-traveled tracks will ensure one's peace of mind and body.
A faster way to cover the entire length of this quaint kingdom is biking. In fact, the mountain biking experience is better than road biking. Once up in the hills at 2000 mts using the affordable Sareis Chairlift, one should avail of the comparatively inexpensive ski resort's snowboarding and skiing facilities.
Back in the plains, the capital Vaduz serves every traveler's taste. One can begin at the Liechtenstein Center that introduces the country through multimedia. It should be followed by a visit to the souvenir stores and the tourist office to get the passport stamped. The grand cathedral and the iconic black-cube shaped art museum Liechtenstein Kunstmuseum are worth a try as well. It should be rounded with the experience trail "Visiting Vaduz with Goethe." Outside, the Galina Falcon center and a Sunday trip to Ruggell for a farmer's breakfast at the Bangshof soothe anyone who is fatigued by the rigor of the banking deals. Overlooking the capital Vaduz is the imposing castle, Schloss Vaduz. A spectacular Gothic castle at Balzers and the clouded town of Triesenberg in the mountains bring up the bottom of your itinerary.
User blogs:
The Easy Way to Find Your Next Flight
Not everyone has experienced the convenience of looking for and booking air travel online. For some people who are not used to online shopping, or for those learning how to browse for the first time it can be a little intimidating at first. It seems like there are a lot of advertisements telling people where to go to book their flight online, but not many articles that take a step-by-step approach ... Read full Blog post
The biggest problem traveling with Bike
The biggest problem for traveling by bike is Transport to the start and from the end of our trip. As a personal trainer I had no big problem with this but I remember like it was yesterday, especially when they come these hot days, when we were kids (that a few decades ago) the only opportunity we had to practice was to grab our bikes cycling, upload them to the door of our house and out from ... Read full Blog post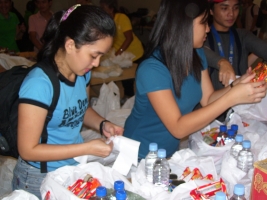 Volunteering for typhoon Ketsana victims
"There's nothing stronger than the heart of a volunteer," says a general in the movie Pearl Harbor. True enough, typhoon Ondoy (internationally nicknamed Ketsana) may have proven its might by destroying hundreds of lives and hundreds more in houses and properties, yet this monster-of-a-calamity did not win in devastating the faith and Good Samaritan-spirit of thousands of men and ... Read full Blog post