48HourVisit.com

Planning a short visit? Check out

48HourVisit.com

, your online guide for short stays and weekend getaways.

Ad

The Glossary

Joe - "a term usually used to connote an American citizen. it is popularly used by foreigners."
Guam Travel Guide

/
United States
/
Guam
/ Introduction
Guam first came into the world consciousness primarily as a naval base for the United States military. In fact, the island experienced some of the worst fighting in the Pacific during World War II. Annexed as a US territory in 1898 as part of the Treaty of Paris, Guam was invaded by Japan in 1941 and for two and a half years its populace experienced terrible atrocities and were forced to adopt the Japanese culture. In 1944, the island was liberated by American forces, and continues to be a dependent of the USA.
Though Guam is still mistaken by some to be a mere military headquarter even today, the thousands of tourists who visit it every year say otherwise. Blessed with scenic beaches, natural beauty, and a colorful culture, Guam relies on its tourism industry for the island's economy.
Cosmopolitan Island
As a result of its relative prosperity and close ties with the US government, Guam is overwhelmingly cosmopolitan and fashionable, a luck not shared by its Pacific Island neighbors. Nowhere is this more evident than its Central region – the island's most visited area that is home to major cities and airports. This where tourists can indulge in theme parks, restaurants, shopping malls, and bars and allow for metropolitan pleasures.
Guam is not only cosmopolitan but also historical. Having been occupied by three countries –Spain, Japan, and USA, the island still has traces from its storied past. At its coasts are ancient forts used by the Spanish for the famed Galleon trade, such as Fort Nuestra Señora de la Soledad. A more somber note is Yigo, a village that was used by the Japanese as a concentration camp for prisoners of war.
The Best of Guam
Of course, no visit to Guam is complete without exploring its immense natural beauty. Its beaches and coasts are definite highlights, especially at spots like Tumon Bay and Hagatna where swimming, diving, and water sporting are at a premium. Those who prefer the more remote and undeveloped can find a haven at Ritidian Point at the island's northernmost tip – a place where the jungle meets the sea.
Guam also boasts some of the best open-sea fishing in the world, where the biggest catch of the Pacific marlin was recorded. It is a common to see tourists heading out in boats into the Mariana Trench, the world's deepest, armed with fishing rods and nets. Some, though, engage in an activity the locals term as "boonie stomping," which is simply a trek through the island's dense jungles and rugged terrain.
User blogs:
The Easy Way to Find Your Next Flight
Not everyone has experienced the convenience of looking for and booking air travel online. For some people who are not used to online shopping, or for those learning how to browse for the first time it can be a little intimidating at first. It seems like there are a lot of advertisements telling people where to go to book their flight online, but not many articles that take a step-by-step approach ... Read full Blog post
The biggest problem traveling with Bike
The biggest problem for traveling by bike is Transport to the start and from the end of our trip. As a personal trainer I had no big problem with this but I remember like it was yesterday, especially when they come these hot days, when we were kids (that a few decades ago) the only opportunity we had to practice was to grab our bikes cycling, upload them to the door of our house and out from ... Read full Blog post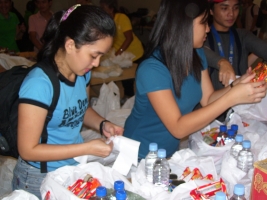 Volunteering for typhoon Ketsana victims
"There's nothing stronger than the heart of a volunteer," says a general in the movie Pearl Harbor. True enough, typhoon Ondoy (internationally nicknamed Ketsana) may have proven its might by destroying hundreds of lives and hundreds more in houses and properties, yet this monster-of-a-calamity did not win in devastating the faith and Good Samaritan-spirit of thousands of men and ... Read full Blog post