48HourVisit.com

Planning a short visit? Check out

48HourVisit.com

, your online guide for short stays and weekend getaways.

Ad
Palau Travel Guide

/
South Pacific
/
Palau
/ Introduction
A Pacific island nation east of the Philippines and south of Tokyo, Palau is among the planet's best destinations for diving and snorkeling because of its blue holes, coral reefs, wartime ruins, and evolutionary wonders such as one-ton giant clams and a lake packed with 21 million stingless jellyfish.
One of the world's youngest and smallest sovereign states, Palau came from "Pelew," a term used by English Captain Henry Wilson who detected the country in 1783. In the European and Australian tongue, Palau is better known as "The Black Islands" after the nation's ancient Melanesian-Malay tribes pictured with their tattoos and body piercings. In official Palauan language, Palau is pronounced "Belau," but in the second dialect, English, Palau stands for "Palau's Archipelago: Lovely and Unique."
World War annals and prehistory awaken in front of us in the museums and battlefields of Paleliu and of Koror, the former capital and largest city. The commercial hub Koror has bestsellers such as the storyboards, or traditional woodcarvings depicting Palauan myths and legends. West of Koror is the dive site Floating Garden Islands, while on the south is the more popular southern islets of Rock Islands, a snorkeling and kayaking haven because of the Jellyfish Lake, a scientific mystery for its millions of jellyfish that evolved without stingers.
A tropical climate virtually undisturbed by typhoons has become an idyllic setting for diving the coral-infested waters of Kayangel, Ngeruangel, German Channel, Ulong Channel and Blue Holes. Blue Corner is notorious for its sharks and high current, while Anguar and the Southwest Islands are the most isolated escapes for their remoteness, tranquil beaches and protective reefs.
On land, exotic birds paint the sky, crocodiles hide in between mangroves, and orchids grow in backyards. The sociable Palauans greet their guests arriving via airplane or yacht from the Philippines, Australia or Guam with Alii (Hello). In Meriil, the "Dancing Island," visitors are entertained with hula-like dances and karaoke-bar nightlife. Like the country's US Dollar currency, dining is American-style, although there are also delicacies that cater to the daring palate like the fruit bat pie, reminiscent of a challenge in the hit TV series, Survivor: Palau and Survivor: Micronesia, which were both shot in Palau.
Palau Traveler Advice
Palau photography

Cabo Engano by
siomaizen

lighthouse ruins by
siomaizen

Cagayan River by
siomaizen
Babuyan channel by
siomaizen

poweboxx people in Palaui by
siomaizen

nice and clear by
siomaizen
rugged landscape by
siomaizen

Cagayan kids by
siomaizen
User blogs:
The Easy Way to Find Your Next Flight
Not everyone has experienced the convenience of looking for and booking air travel online. For some people who are not used to online shopping, or for those learning how to browse for the first time it can be a little intimidating at first. It seems like there are a lot of advertisements telling people where to go to book their flight online, but not many articles that take a step-by-step approach ... Read full Blog post
The biggest problem traveling with Bike
The biggest problem for traveling by bike is Transport to the start and from the end of our trip. As a personal trainer I had no big problem with this but I remember like it was yesterday, especially when they come these hot days, when we were kids (that a few decades ago) the only opportunity we had to practice was to grab our bikes cycling, upload them to the door of our house and out from ... Read full Blog post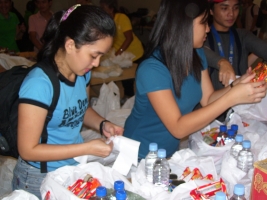 Volunteering for typhoon Ketsana victims
"There's nothing stronger than the heart of a volunteer," says a general in the movie Pearl Harbor. True enough, typhoon Ondoy (internationally nicknamed Ketsana) may have proven its might by destroying hundreds of lives and hundreds more in houses and properties, yet this monster-of-a-calamity did not win in devastating the faith and Good Samaritan-spirit of thousands of men and ... Read full Blog post