Mt. Everest – A Challenge of a Lifetime
Jan 29, 2010 |
In the spotlight
|
0 Comments
When George Mallory was asked why he would attempt a climb in Mt. Everest, the first person to do so, he simply said, "Because it's there." Since then, many have attempted to tackle the tallest mountain in the world and the mother of all challenges, despite the fact that Mallory, together with his companion Andrew Irvine, didn't come out of the Everest alive.
Now, climbers are better equipped in gear and clothing and have a more competent support system if something on their way up (or down) fails. Hundreds of expedition companies are willing to take climbers for a hefty fee; you can easily sign up for one over the Internet. Bad news, however, haunts even the most enthusiastic of climbers.

Mount Everest as seen on the side of Tibet (Photo by Carlos Adampol)
Since it was first scaled in 1922, about 216 deaths have been reported against the 2,249 successful climbs. This means that one out of 10 people will likely meet his or her death in the mountain. In 1996, out of the 98 who summitted, 15 people died. As the world's highest cemetery, Everest is a haven of about 120 bodies of climbers left uncollected.
As proven by the thousands who summitted, climbing the peak of Mt. Everest doesn't mean certain death. Read on for some helpful tips on how to keep life and limb intact while climbing the beguiling, beautiful and terrifying Mt. Everest.
Stamina is important, but climbing experience is key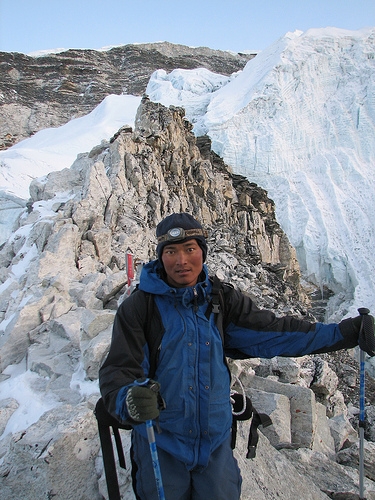 Never try to scale Mt. Everest with just the basic mountaineering training. Even the most experienced trekkers prepare by climbing other mountains in the course of two to three years before wrestling the Biggest One. This is to familiarize themselves with various terrains, angles of ascent, weather conditions and decreased level of oxygen. Oxygen supply is slashed by a third on the summit. To make sure you're prepared for whatever Mt. Everest may throw at you, take extensive mountaineering courses that will improve your technique and survival instincts, as well as help your judgment of routes to take and equipment to bring. Needless to say, ultimate physical and mental fitness is required for this once-in-a-lifetime adventure.
What you pack (or not) is crucial to your survival
After extensive training, focus on what to bring during the climb itself. A climber typically carries 20 to 30 lbs. of supplies; beyond 50 lbs., a pack becomes a liability. First, the essentials: five to seven oxygen canisters, a satellite phone, a two-way radio, and wet wipes for cleaning. For food, make sure to bring along plenty of biscuits and chocolate to keep up your strength. Cooking is a hassle, so it is advisable to pack meals in bags you can just boil before eating.
Of course, heat-regulating clothes, and don't forget your ice axe, harness, ski poles, and ropes. An expedition company will duly inform you what to bring and likely provide most of the supplies such as tents and communication equipment.
The ridge in the Nepal side is the way to go
While it may be fun and exciting to blaze a new trail that no one has yet taken, commonsense dictates to play it safe and take a tried-and-true path where you will have more or less an idea of what to face during the journey. The default choice will be the classic first ascent route, which traverses the mountain's southeast ridge on the Nepal side. The more dangerous northern Tibetan route is meant only for the thoroughly experienced.
The Mt. Everest base camp is where climbers stock on supplies and gather energy before attempting to summit. (Photo by Emily Faulk)
Have your own Tenzing Norgay
When Sir Edmund Hillary became the first to make a fully documented climb to the top of Mt. Everest, he didn't do it alone. He needed the service of Tenzing Norgay, a Nepalese Sherpa who knew the terrain and helped him immensely in navigating the route.
Make sure you make a contract with the sherpas to help you on your voyage. Arranging the climb through an expedition company is more convenient, as it already employs its own group of sherpas. Choose only a company with serious Everest credentials and ask, if possible, their previous clients on the kind and level of service they provide.
High up on the summit, the weather is king
Mt. Everest (leftmost peak) has daunted climbers for decades to conquer it. Beside it is Lhotse which, at 27,939 feet, is the fourth tallest mountain in the world. (Photo by McKay Savage)
The weather is bad enough in "normal" conditions (low visibility, strong winds, very cold), so you should probably not mess with it when there's a whiteout where winds blow at 100 miles per hour and the temperature drops to 50 degrees below zero. Watch out for slippery ice and avalanches, the latter being the number one cause of death in Everest. The best time to the do the trek is between March and May, which is spring time and when the weather is expected to be at its most cooperative.
"Threatening with avalanches, extreme weather conditions and reduced oxygen level, Mt. Everest is definitely not for the faint of heart. Get to know how to climb and survive the highest point on Earth."