The new Bollywood fever
Feb 10, 2010 |
In the spotlight
|
2 Comments
After the Taj Majal, India's monumental window to the world is perhaps Bollywood, the Mumbai-based film industry. From being an alleged "Hollywood copycat," it has now become a powerhouse, outshining Hollywood in terms of ticket sales and film output. Its popularity has grown even more, with the Bollywood choreography animating Moulin Rouge! and other Hollywood flicks; the West End success of Andrew Lloyd Weber's Mumbai Dreams; and Slumdog Millionaire's big Golden Globes and the Oscars win. From Pakistan, to Russia, Africa, and Fiji, Bollywood movies are all the rage.

The Bollywood dance is one of India's cultural imports known the world over. Here, people from New York City are trying their hands on it. (Photo by bettyx1138)
International flair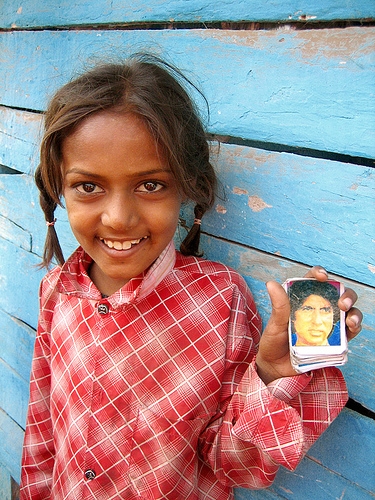 More and more Indian directors, who studied in London and the United States, are returning to their homeland to make more films. This brings the country's filmmaking industry to new heights in terms of cinematography, quality, innovative storylines, and advances in technical aspects such as animation and special effects.

Bollywood is said to grow even bigger as it now expands from Indian romance and family themes to suspense, thriller, and crime genres. More Bollywood releases abroad, the opening up of overseas markets, and the explosion of theaters in big cities, all contribute to Bollywood's better box office performance in India and abroad. In fact, 14 of the 24 biggest U.S. cities have at least one theater showing Bollywood movies, notes Time magazine film critic Richard Corliss.

Unlike in America and Europe where Bollywood products largely cater to Indian expats yearning to keep in touch with their motherland, in West Africa and other parts of the globe, such flicks rose to prominence despite of the lack in significant Indian audience or the differences in language, religion, and culture. "The films from India were found to be a good source of providing hope with entertainment to the struggling masses," notes Ashkok Sharma, Indian Ambassador to Suriname.
Bigger than Hollywood
Although Hollywood is the world's oldest film industry and the biggest one in terms of revenue, Bollywood today is the global leader in production and ticket sales. According to UNESCO, Bollywood produces more than 1,000 films a year, double of what Hollywood creates. Bollywood also sells over three billion tickets each year, a billion more than Hollywood. Corliss says Bollywood just seems bigger because it "operates under the vulture eyes of a voracious entertainment press and under the shadow of organized crime."

Mumbai is the center of Bollywood. Its slums were famously depicted in the Oscar-winning film Slumdog Millionaire. (Photo by Jason Turner)
Bollywood movies are also generally grander than most Hollywood flicks; an Indian movie costs an average of $5 million. Most of the expenses go to elaborate costumes, sets, cinematography, and special effects. Bollywood films are multi-lingual and can even go where Hollywood films are virtually never heard, especially in Muslim countries, which share with Bollywood's traditional themes of respect for women and no nudity.
Mumbai: The L.A. of Bollywood
Because of its global prestige, Bollywood attracts thousands of hopefuls from all over India. Beauty queens, models, and even common people flock to Mumbai, with the dream of becoming a big star in a highly fickle industry. Even for non-Bollywood aspirants, Mumbai is a land of promise as it has been ranked a global city and placed seventh on Forbes magazine's list of "Top Ten Cities for Billionaires."

In the town of Allepsey in Kerala, available walls are covered with Bollywood movie posters. (Photo by Christian Haugen)
Although Mumbai is India's financial capital, it is also the most populous urban sprawl not only in the country but in the whole world. Approximately 60 percent the city's 14 million inhabitants live in slums like Dharavi, Asia's second-largest shanty and main location of the film Slumdog Millionaire. Despite their poverty, people from the slums are among the biggest fans of Bollywood flicks. In a typical household, the entire family would watch two or more movies at a time, an average of six hours a day of no production but devoid of stress.
What's in the dance
For these Indian Bollywood fans, the biggest draw of Hindi films is a song-and-dance finale. As Corliss explains, virtually all Bollywood movies are musicals, hence, dance numbers are woven into the screenplay no matter what the film's genre is—may it be drama or action. According to him, a film's success typically depends on the quality of such musical acts since for 60 years, the flicks have provided the nation with most of its bestselling songs, which generally, are more popular than the movies themselves. "In effect, the movie industry is the music industry," adds Corliss.
The frenzy extends to outside India. Even western pop songs like the Black Eyed Peas' "Don't Phunk with my Heart" and the Pussycat Dolls' "Jai Ho" teem with the spirit of Bollywood.
"As one of the major film production centers in the world, Bollywood churns out about 1,0000 movies, most of which cater to India's masses. They precariously enact their lives through the characters, escaping to a world where everything in the end gets resolved in song and dance."