48HourVisit.com

Planning a short visit? Check out

48HourVisit.com

, your online guide for short stays and weekend getaways.

Ad

The Glossary

Padyak - "From the Tagalog term meaning "to kick"; A term referring to a bicycle with a sidecar attachment used for public transport."
Cagayan de Oro Travel Guide

/
Asia
/
Philippines
/
Cagayan de Oro
/ Introduction
Whitewater rafting in the Philippines means only one place: Cagayan de Oro. This prosperous Mindanao metropolis is largely famed for its dynamic water activities, interesting urban treks, and spirited nightlife. Officially dubbed the "City of Golden Friendship" because of its friendly locals, Cagayan de Oro takes pride on its wide array of buildings, amusement parks, and other commercial establishments.
The stemming Cagayan River is venue to the country's whitewater-rafting capital. Thrill-seekers can ask around or go to the local tourism office to know how such adrenaline-pumping activities can be arranged. Also a daredevil's playground is the Macahambus Cave, a 13-foot underground cavern teeming with plant life and wartime history.
Those who would rather stay dry can wander the city proper. Cagayan de Oro features recreational centers such as Vicente de Lara Park and Gaston Park that invite everyone to just sit down, have a snack, and relax. Those who wait until sundown on weekends are rewarded when Plaza Divisoria closes to traffic to make way for the chairs and tables of local food stalls and street cafes.
Cagayan de Oro Landmarks:
Cagayan de Oro photography
User blogs: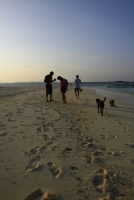 A trip to Siargao
Seeing people that are "living their dream" is always inspirational, it looks so rewarding and peaceful, breaking from the chains of conformism, doing what you always dreamt to do since you were a kid, it doesn't have to make you huge loads of money or bring you world fame just a feeling of self fulfillment, last time I checked, you can't put a price tag on that one. In Siargao ... Read full Blog post
San Gimignano and San Pellegrino
Night falls on the flourishing and industrious San Gimignano, its 72 towers stand on the low roofs of the houses lit by the moon. This is not a luxury travel spot but is something you don't see every day. In the distance the clatter of hooves echoed tired in the Via Francigena. The hand of the blacksmith stops beating, the frame of the weaver becomes silent, the streets of the tank only a concert ... Read full Blog post