48HourVisit.com

Planning a short visit? Check out

48HourVisit.com

, your online guide for short stays and weekend getaways.

Ad

The Glossary

Carinderia - "the Philippine equivalent of a canteen, it serves mostly classic Filipino food at knock-down prices."
Mindanao Travel Guide

/
Asia
/
Philippines
/
Mindanao
/ Introduction
The frequent news of terrorist attacks has caused a lot of tourists to cross out Mindanao from their must-visit list. That is unfortunate considering that the Philippines' second largest island is not crawling with Muslim separatists. The northern region features clear seas with colorful vintas (sailboats), surprisingly friendly towns adorned with lavish mosques, a trove of spectacular bodies of water that seduce divers and true-blue surfers, lush forests teeming with exotic plant and animal life, and towering mountains such as Mt. Apo, the country's highest.
One of Mindanao's prime lures is the world-class surfing destination of Siargao. A cloud nine of imposing waves, the small off-coast island has earned the reputation of being the country's surfing capital. Another great experience in Mindanao is Cagayan de Oro's whitewater rafting. The Cagayan River carries dinghies on its rough back and to a ride so violent one might think the devil himself is maneuvering the inflatable vessels.
Mindanao's urban settlements present the ethnic moro culture at its finest. In the island's largest metropolis Davao, local food takes the limelight as baskets of durian, bottles of the intoxicating tuba, and plates of kinilaw are so common both in the restaurants and on the streets. Another must-see in Davao is the skyward-soaring Mt. Apo, known as the sleeping grandfather of Philippine volcanoes. This emerald mountain has stayed mum throughout centuries, making it a destination for avid hikers.
Zamboanga City, on the other hand, is a splash of color in Mindanao's green and brown palette. The coasts are vibrant with the stripes found in the rainbow masts of the vintas and the boathouses of the Badjao (sea nomads). The ancient means of trade called barter still exists in this flower-strewn town, as goods from neighboring Borneo can be found near the wharf. The Philippines' foreign influence is highly evident in the local dialect Chavacano, which shares linguistic strands with Spanish.
Mindanao Landmarks:
Mindanao Traveler Advice
User blogs: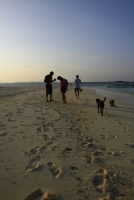 A trip to Siargao
Seeing people that are "living their dream" is always inspirational, it looks so rewarding and peaceful, breaking from the chains of conformism, doing what you always dreamt to do since you were a kid, it doesn't have to make you huge loads of money or bring you world fame just a feeling of self fulfillment, last time I checked, you can't put a price tag on that one. In Siargao ... Read full Blog post
San Gimignano and San Pellegrino
Night falls on the flourishing and industrious San Gimignano, its 72 towers stand on the low roofs of the houses lit by the moon. This is not a luxury travel spot but is something you don't see every day. In the distance the clatter of hooves echoed tired in the Via Francigena. The hand of the blacksmith stops beating, the frame of the weaver becomes silent, the streets of the tank only a concert ... Read full Blog post