48HourVisit.com

Planning a short visit? Check out

48HourVisit.com

, your online guide for short stays and weekend getaways.

Ad

The Glossary

puroks - "meaning zones is a subdivision of a barangay."
Boracay Travel Guide

/
Asia
/
Philippines
/
Boracay
/ Introduction
Considered by many as the prime beach destination in the Philippines, Boracay beckons with its sugar-white sand and cerulean waters, characteristics which have made it one of the most prized possessions of the country. The renowned island paradise is a playground with all the recreational activities to quench the tourists' thirst for both adventure and amusement. A small speck of land off Panay's northern coast, Boracay was initially a closely-guarded secret among the local people. It was in the '70s that news of its pristine beaches broke out to the public and investors flocked to the island to establish resorts, restaurants, and nightclubs, transforming the seven sq. km. island from a chaste virgin to a celebrated pageant queen.
The island has four main beaches, and those who do not fancy crowded shores can go to Bulabog Beach. Windsurfers prefer this area of Boracay because of its stronger, wilder squalls. A peaceful trip can be found in the north of the island, in Puka Beach, from where puka shells can be collected. The most prominent beach, however, is the White Beach. Here, the four-kilometer shore teems with resorts, hotels, restaurants, and other establishments. The water body along the White Beach is often ripped by banana-boats and sailors in their vibrant paraws (an outrigger sailboat), while the shore is lined with colorful beach umbrellas, scarcely-clothed people tanning or walking around, and multitudes of vendors selling sunglasses, refreshments, and a hundred other items.
Boracay is famous not only for its pristine beaches, but also for the after-dark parties. Things get a lot more interesting once the magnificent sunset is over. Then the White Beach's nightclubs and parlors are vivified by performing musicians and fire dancers who can liven the night up until the wee hours.
Boracay Landmarks:
Boracay Traveler Advice
Boracay photography
Manok Manok in Boracay Island by
Vic Lactaoen
skl\im boarding by
lilmisstantrums
skim boarding by
lilmisstantrums
no title by
chinxlexy
no title by
chinxlexy
User blogs: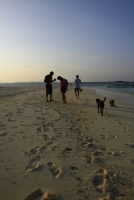 A trip to Siargao
Seeing people that are "living their dream" is always inspirational, it looks so rewarding and peaceful, breaking from the chains of conformism, doing what you always dreamt to do since you were a kid, it doesn't have to make you huge loads of money or bring you world fame just a feeling of self fulfillment, last time I checked, you can't put a price tag on that one. In Siargao ... Read full Blog post
San Gimignano and San Pellegrino
Night falls on the flourishing and industrious San Gimignano, its 72 towers stand on the low roofs of the houses lit by the moon. This is not a luxury travel spot but is something you don't see every day. In the distance the clatter of hooves echoed tired in the Via Francigena. The hand of the blacksmith stops beating, the frame of the weaver becomes silent, the streets of the tank only a concert ... Read full Blog post