48HourVisit.com

Planning a short visit? Check out

48HourVisit.com

, your online guide for short stays and weekend getaways.

Ad

The Glossary

Suman - "a popular rice delicacy made with glutinous rice cooked in coconut milk. it is peddled wrapped in leaves and is eaten dipped in sugar."
Visayas Travel Guide

/
Asia
/
Philippines
/
Visayas
/ Introduction
Apart from its sprawling collection of palm-fringed beaches with sugar-white sand and turquoise waters, the Visayas archipelago takes pride on being a borderline between Luzon's bustling cities and mixed cultures infused with Western appeal and the Mindanao's quaint towns and dominantly Islamic lifestyle. Located at the heart of the Philippines, Visayas' settlements display congested streets lined with tricycles and decades' old ancestral houses. There is never a shortage of warm smiles and friendly greetings around town.
Because of the islands' close proximity to each other, a rental boat is all one may need to navigate through the narrow canals and friendly waves in Visayas. Of course, the prime draw is the celebrated island of Boracay, the reigning queen of all Philippine beaches. A short banca ride away from Caticlan, this seven kilometer strip of heaven on earth attracts thousands of tourists annually. Those who prefer a more quiet retreat can head out to the isolated coasts and vibrant diving spots in Sipalay or Malapascua. Land-lovers may want to go to Bohol and have a look at the Chocolate Hills that seem like clusters of coffee buns from afar.
Urban trekkers can immerse themselves in the historical significance of the Visayas and can begin in the Queen City of the South, Cebu. A less chaotic version of Manila, this thriving metropolis features Magellan's Cross, the great navigator's gift to the animist datus of Ancient Cebu. On the other hand, Tacloban boasts of its Mac Arthur Memorial, in honor of the American general's efforts to liberate the island from the Japanese.
The Visayas is a great destination all year round, though the towns are best visited around the time of their fiestas. Almost every town has a reason to celebrate, whether it is to commemorate a historical event or to pay homage to their patron saint. Visayans seem to be living to revel on the streets in dance parades and prepare succulent seafood cuisines and native sweets. A famed festival is Aklan's Ati-Atihan, where dancers wear traditional garbs to imitate their negrito forefathers.
Visayas Landmarks:
User blogs: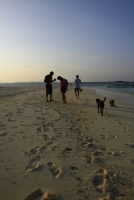 A trip to Siargao
Seeing people that are "living their dream" is always inspirational, it looks so rewarding and peaceful, breaking from the chains of conformism, doing what you always dreamt to do since you were a kid, it doesn't have to make you huge loads of money or bring you world fame just a feeling of self fulfillment, last time I checked, you can't put a price tag on that one. In Siargao ... Read full Blog post
San Gimignano and San Pellegrino
Night falls on the flourishing and industrious San Gimignano, its 72 towers stand on the low roofs of the houses lit by the moon. This is not a luxury travel spot but is something you don't see every day. In the distance the clatter of hooves echoed tired in the Via Francigena. The hand of the blacksmith stops beating, the frame of the weaver becomes silent, the streets of the tank only a concert ... Read full Blog post