48HourVisit.com

Planning a short visit? Check out

48HourVisit.com

, your online guide for short stays and weekend getaways.

Ad

The Glossary

Betamax - "In reference to the small rectangular videocassette tape, this street food is simply solidified pig or chicken blood skewered and then grilled."
Baguio Travel Guide

/
Asia
/
Philippines
/
Baguio
/ Introduction
Known as the "Summer Capital of the Philippines," Baguio is often visited by tourists and locals for its cool climate, superb landscape, and colorful vegetation. In every sense, it offers a respite from the urban jungle and the chance for honeymooners to have their romantic moment. Originally envisioned as a recreational facility for US army personnel, Baguio has become synonymous with a haven up North. The year-round chilly weather makes it even more popular to Filipinos from the lowlands who want to get away from the country's humidity and scorching heat.
After taking a photograph or two next to the 40-foot limestone carving known as the Lion's Head at the city threshold, an ideal place to start traveling around Baguio could be Camp John Hay, where vacationers can rent a lodge and enjoy the amenities, play golf, and go horseback-riding. A peculiar find in the mountain resort is the Cemetery of Negativity, where tombstones bear strange epitaphs (e.g. "Itz Not Possible", "Why Didnt I?", and "A Truely Misearableday") embodying bad human characteristics that are to be "buried." To the west of Camp John Hay is the largest park in Baguio, Burnham Park. Located in the heart of the city, it is an ideal place to relax and take in the vibrant colors and calm ambience. The park is a constant venue for picnic lunches and leisurely strolls, and visitors can also rent bikes and ride around the area or roam on a boat down the man-made lake.
Any vacation would be incomplete without shopping, and in Baguio, the place to go to is the Public Market. It is practically a whole street full of stalls with a wide range of merchandise such as souvenir items, local delicacies, native products, and what not. However, since Baguio is a predominantly Catholic city, it is customary for people to pray the Angelus (a Catholic invocation) at six o'clock in the evening. Non-Catholics are advised to stop whatever they are doing at that time in respect for the routine.
Baguio Landmarks:
Baguio Traveler Advice
Baguio photography

Flower Market at Burnham Park, Baguio City by
Vic Lactaoen
User blogs: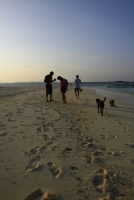 A trip to Siargao
Seeing people that are "living their dream" is always inspirational, it looks so rewarding and peaceful, breaking from the chains of conformism, doing what you always dreamt to do since you were a kid, it doesn't have to make you huge loads of money or bring you world fame just a feeling of self fulfillment, last time I checked, you can't put a price tag on that one. In Siargao ... Read full Blog post
San Gimignano and San Pellegrino
Night falls on the flourishing and industrious San Gimignano, its 72 towers stand on the low roofs of the houses lit by the moon. This is not a luxury travel spot but is something you don't see every day. In the distance the clatter of hooves echoed tired in the Via Francigena. The hand of the blacksmith stops beating, the frame of the weaver becomes silent, the streets of the tank only a concert ... Read full Blog post