48HourVisit.com

Planning a short visit? Check out

48HourVisit.com

, your online guide for short stays and weekend getaways.

Ad

The Glossary

Hudhud - "it is recited and chanted during sowing and harvesting of rice even in funeral wakes. This oral tradition is practiced in the Mountain Province. It takes three to four days to recite the whole 40 or so chapters of the hudhud."
Banaue Travel Guide

/
Asia
/
Philippines
/
Banaue
/ Introduction
Nestled in the high terrains of Northern Luzon is Banaue, known for the rice terraces that cascade all the way down to the lowlands, where the small towns are often filled with tourists and locals. The province is also famed for its beautiful landscape as well as for the native inhabitants' (Ifugaos, with regard to the province) well-conserved lifestyle which can be traced back to the pre-colonial times.
Considered by some as the "Eighth Wonder of the World," the Banaue rice terraces are found in Apayao, Benguet, Mountain Province, and Ifugao. Declared a UNESCO World Heritage Site, the vast tiers of paddies and vegetable gardens were created by hand using only primitive tools around 2,000 years ago by the Ifugaos. Walkways and trails offer a panoramic view of the terraces that look like gigantic green stairs from any viewpoint.
The terraces are not the only sights to see in Banaue, as the province is still inhabited by the local Ifugaos who have managed to preserve a major part of their culture by living aloof from the advancements found in the rest of the country. In the villages of Pula, Bocos, and Tam-an, people can see how the Ifugaos weave their colorful garments and mold pottery using primitive tools.
Banaue also has forests and waters that are popular for campers and trekkers alike. Visitors of the rice terraces can take a dip in the natural pool of Tappiyah Waterfalls, which is only 30 minutes away from Batad Village.
Banaue Landmarks:
User blogs: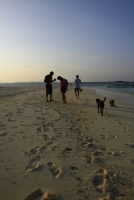 A trip to Siargao
Seeing people that are "living their dream" is always inspirational, it looks so rewarding and peaceful, breaking from the chains of conformism, doing what you always dreamt to do since you were a kid, it doesn't have to make you huge loads of money or bring you world fame just a feeling of self fulfillment, last time I checked, you can't put a price tag on that one. In Siargao ... Read full Blog post
San Gimignano and San Pellegrino
Night falls on the flourishing and industrious San Gimignano, its 72 towers stand on the low roofs of the houses lit by the moon. This is not a luxury travel spot but is something you don't see every day. In the distance the clatter of hooves echoed tired in the Via Francigena. The hand of the blacksmith stops beating, the frame of the weaver becomes silent, the streets of the tank only a concert ... Read full Blog post