48HourVisit.com

Planning a short visit? Check out

48HourVisit.com

, your online guide for short stays and weekend getaways.

Ad

The Glossary

Para - "Popularly used when commuting, the word is used when telling the driving to stop the vehicle so that one can get off."
Bohol Travel Guide

/
Asia
/
Philippines
/
Bohol
/ Introduction
The island-province of Bohol, located at the heart of the Visayas in the Philippines, offers a myriad of land and water activities, as well as an array of historical landmarks to visit. Local and foreign tourists make it a point to see Chocolate Hills, the island's main attraction. It owes its name from the color it has for summer; scientists believe that the hills were once underwater, as evidenced by their repetitive shape. As a beach destination, Bohol can hold its own: magnificent shores sparkle in the sun. As for the historical landmarks, Bohol's colonial churches are the most well-preserved in the country, such as those located in Tagbilaran, the island's capital.
Various species call Bohol as home, such as the metallic-winged sunbird and the silvery kingfisher can be seen at the Rajah Sikatuna National Park. Famous for their eerily large eyes is Bohol's queer Philippine Tarsier, a nocturnal creature considered to be the smallest primate in the world. The province is also home to the world's largest reticulated python in captivity, fondly called Prony, weighing over 500 lbs. measuring more than 23 feet long.
The Southwestern shores have become popular for another reason; the reefs teem with marine life luring tourists with their vibrant colors. Visitors can ride long, wooden boats called bancas (small outrigger boat) or go scuba diving on the pristine waters to watch the whales and dolphins up close near Pamilacan Island. A banca ride away to the east is the atoll Balicasag Island, a coral diver's delight. Nearby is the Virgin Island, a sliver of paradise famous for their spectacular ocean panoramas. A day of isle-hopping would be incomplete without having a mouthful of seafood from the local beach restaurants, a glass of beer and the fantastic Philippine sunset before retreating to the guesthouse.
A good way to taste the authentic Boholano cuisine, and even to learn about the province's history, is to take part in a feast, or pista in native tongue. An ideal time to visit the place may be the month of July when the Sandugo Festival is celebrated. It commemorates the historical Sanduguan (blood compact) of the first Filipino settlers and the Spaniards.
Bohol photography
djembe! by
on Toes
Hamming it up at the Blood Compact shrine by
on Toes
Bohol Bee Farm buffet by
on Toes
User blogs: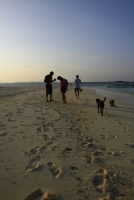 A trip to Siargao
Seeing people that are "living their dream" is always inspirational, it looks so rewarding and peaceful, breaking from the chains of conformism, doing what you always dreamt to do since you were a kid, it doesn't have to make you huge loads of money or bring you world fame just a feeling of self fulfillment, last time I checked, you can't put a price tag on that one. In Siargao ... Read full Blog post
San Gimignano and San Pellegrino
Night falls on the flourishing and industrious San Gimignano, its 72 towers stand on the low roofs of the houses lit by the moon. This is not a luxury travel spot but is something you don't see every day. In the distance the clatter of hooves echoed tired in the Via Francigena. The hand of the blacksmith stops beating, the frame of the weaver becomes silent, the streets of the tank only a concert ... Read full Blog post