Tattoo tales
Dec 04, 2009 |
In the spotlight
|
3 Comments
Recently, tattooing has seen a Renaissance of sorts, with the old and the young alike having their skin inked with personal symbols. Not just for vanity's sake, they are tattooed with the same reasons shaped by generations before them: for honor, sexual attraction, rite of passage, or even for becoming "visible to the gods." Charles Darwin remarked that tattoos signify the prominence of a tribal group. "Not one great country can be named," he wrote in The Descent of Man, "from the polar regions in the north to New Zealand in the south, in which the aborigines do not tattoo themselves."

Photo by Dusdin Condren
With popular celebrities David Beckham and Angelina Jolie sporting their intricate tattoos, it would be interesting to trace down through history how our forebears marked themselves as a part of the tribe and the larger humanity.
Headhunters as tattoo artists
Pe'a or tattooing as a rite of passage is an unbroken tradition in Samoa for over 2,000 years. In fact, the word tattoo came from the Samoan word tatau. The tools and techniques changed a little and the skill is still being passed from one son to another. For many years, the tufuga or tattoo artist trains as his father's apprentice using boar's teeth, turtle shell and a wooden handle in lieu of needles.
The tattooing process takes weeks and even years. Half a dozen boys and girls are being tattooed at the same time, although the men receive more pain with the heavier strokes. The pain is oftentimes deadly, but those who would not undergo such "ritual" or would have incomplete tattoo will be labeled pala'ai (coward) for life.
From Samoa, tattooing spread among the Polynesian peoples of Vanuatu, Tuvalu, Fiji, and Tonga, where tattoos are being used as a rite of passage to adolescence. In New Zealand, Maori tattooists are considered sacred, while Maori chiefs use their tattoos to sign documents. When the chiefs die, their heads or Mokomokai will be separated from their bodies and will be painted with black ink designs as a symbol of high status.
Asia's "Holy" Tattoo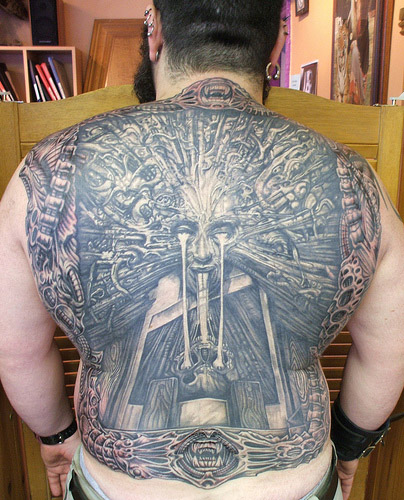 Photo by Ian McRob
In Japan, the indigenous Ainu still observe their prehistoric tradition of Irezumi or wearing facial tattoos for social, spiritual, and decorative purposes. The women, in particular, receive tattoos on their mouths at an early age, using birch bark as needle and soot for color.

From woodblocks, body tattoos today are being applied by hand and needles by the Horishi or tattoo artist who trained for many years under a master. In the cities, however, those with tattoos are linked with the yakuza (crime syndicates), as such groups often use tattoos written in Katakana for identification.

In Laos, Cambodia, Taiwan, and Indonesian Borneo, the yantra (tattoo) is being used as a lucky charm and also as protection against evil spirits. Borneans use two sticks to render nature-themed designs, while the Brahmin priests and Buddhist monks of Thailand, Laos and Cambodia perform the sak yant (sacred tattooing) patterns after the visions they received in meditations.

Nowadays, the most famous temple for yant tattooing is Wat Bang Phra in Thailand. Ayatal, a Thai minority group, observe facial tattooing as a symbol of maturity. Males who have reached adulthood are given a band on the chin and on the forehead, while women who have learned how to weave, cook and farm are given tattoos all over their face. Such practice is also imposed among Bornean women, and without those tattoos, the woman is perceived not worth marrying. Among Bornean men, tattoos dabble as a diary. They are given eggplant flower tattoos every time they accomplish something in life.

The same was the routine in the Philippines. Men from the head-hunting tribes of Kalinga, Ifugao, and Bontoc Igorot were given a chaklag (tattoo) as a rite of passage and as reward for every warrior's head taken home. Women of the Luzon mountain tribes also receive full body tattooing, as opposed from those in Visayas and Mindanao who only paint their wrists and hands. Such practices made the early Northern Filipinos be called "Pintados" (painted ones) by the Spanish colonists. Warriors and martial artists of China also receive rank-signifying tattoos in the form of Chinese calligraphy.
Africa, America, and Europe's tribal art
In Africa, indigenous groups like the Berbers of Tamazgha apply symbolic tattoos in their bodies for tribal identification. The Coptic Christians of Egypt, too, draw images of Coptic crosses on their wrists as a religious ID. Instead of pigment, scarification is being followed in West Africa, Congo, and Sudan. Tattooing among women is viewed in some African cultures as a sign of maturity and willingness to bear children.

Photo by Eyeliam
Similarly, in America, body painting is being used for identification, especially among the hunter-gatherer tribes of Brazil's Amazon Forest. Modern-day descendants of American Indians, in fact, are tattooing their tribes' symbols on their back, shoulders or arms.
In the United States, the military have a long-standing tradition of putting tattoos to indicate their units, kills, and battles, while in Britain, members of the Royal Navy put on swallow tattoos to show off their sailing experience. American prisoners, too, wear their gangs' names on the tattoos, while members of European fraternities brand their arms with the symbols of their leagues as a badge of honor.
In general, the revival of the tattoo culture has prompted many schools worldwide to offer fine arts courses in tattooing. Perhaps, this could be the start of preventing the word "taboo" from being tattooed on the word "tattoo."
"Tattoos for some are a personal symbol, while for others, they are a proof of love and devotion. In various tribes, since the beginning of history, tattoos are badges of honor, worn in pride and allegiance to their ethnic group."