48HourVisit.com

Planning a short visit? Check out

48HourVisit.com

, your online guide for short stays and weekend getaways.

Ad

The Glossary

manafis - "a system of aqueducts used by the Egyptians in the ancient time."
Unlike Cairo and Alexandria, hives of frenetic energy, Al-Arish is simply a pleasant metropolis where one can experience the benefits of a large city (being the capital of North Sinai) with lesser cost and without the hassle of crowds. Named in the Bible as Sukkot, Al-Arish's ancient name is Rhinocolorum which means "Noses Cut Off," referring to the fate of prisoners exiled during the height of Ptolemy's dynasty. After wars and chaos, what is left in the region is landscape, dotted with palm-fringed fashionable resorts where most of the holiday-makers and beachcomber dive in during the heat of the summer.
A contrast to the number of beaches is the Wadi el Arish, a wadi (valley or riverbed in the desert) located in central Sinai which serves as a tributary-feeding watershed during the halcyon days of King Saul. Next to the wadi is a fortress of a Pharaonic fort built by Solimamn el-Qanouny in 1568. Defense towers, Nakhl Citadel in Nakhl village and the Farma Citadel in Balouza will excite the curiosity of tourists.
Another worthwhile diversion in the area is the Zerenike Protectorate, a sanctuary of migrating birds ideal for nature lovers and to the aspiring ornithologists. Those who want to learn more about the culture and history of the city can pay a visit to the Sinai Heritage Museum nestled along the coastal road to Rafah (the border crossing of Gaza Strip and Egypt).
Tourists inevitably fall in love with Al-Arish's bucolic charm, the novelty of its weekly Bedouin market, and the spit of its shoreline speckled with date palms—a main industry, alongside castor beans and quail trapping.
User blogs:
Cheaper galactic spaceliner unveiled
News from http://news.ph.msn.com/top-stories/article.aspx?cp-documentid=3737940 Richard Branson unveiled Monday a commercial spaceliner offering tourists a cheaper chance to experience the thrill of weightlessness and view the splendor of the Earth from space. The British billionaire hopes to offer tickets aboard his spacecraft at a cost of 200,000 dollars each, giving adventurous ... Read full Blog post
Indonesia Eco Tourism
Tour Itenaray Day 01 BALI - LABUAN BAJO – RINCA ISLAND – KOMODO ISLAND (L.D) Pick up from your hotel in Bali and transfer to the airport, for flight to Labuan Bajo (West Flores) for approximately one and half hours. On arrival in Labuan Bajo airport, will be welcomed and met with our local representative or tour guide. Than transfer to the harbour to catch a boat cross to Rinca ... Read full Blog post
San Gimignano and San Pellegrino
Night falls on the flourishing and industrious San Gimignano, its 72 towers stand on the low roofs of the houses lit by the moon. This is not a luxury travel spot but is something you don't see every day. In the distance the clatter of hooves echoed tired in the Via Francigena. The hand of the blacksmith stops beating, the frame of the weaver becomes silent, the streets of the tank only a concert ... Read full Blog post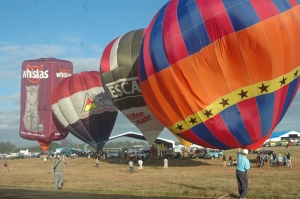 An Aerial fiesta in Clark Pampanga
Its a party in the sky as multi colored hot air balloons piloted ny different pilots from various partso of the world participated in this annual gathering. As early as 5am, the 2,500 hectare aviation complex at Clar Economic Zone in Pampanga was already crammedi with excitement. Clusters of hot air balloon participants busily prepare their own balloons for liftoff as they need to take advantage of ... Read full Blog post