48HourVisit.com

Planning a short visit? Check out

48HourVisit.com

, your online guide for short stays and weekend getaways.

Ad

The Glossary

hypostyle hall - "a kind of architecture used by the Egyptians having a flat ceiling which is supported by columns like the ones in Kom Ombo and Karnak."
Alexandria Travel Guide

/
Africa
/
Egypt
/
Alexandria
/ Introduction
Alexandia is laden not only with buildings, sprawling pillars, and catacombs from epochs past but also with elegant patisseries, quaint tea houses, and ornate shops. Called as the "Pearl of Mediterranean," it is the second largest city in Egypt and mixes cultural flavors of the Middle East and the Mediterranean. Its history is nothing to sneeze about: Alexandria was founded by Alexander the Great in 331 B.C. and set the stage for Mark Antony and Cleopatra's love-hate relationship. It was also the core center of learning and culture in the ancient world.
Endowed with a salubrious climate and a number of beaches, Alexandria can serve as a worthwhile detour during the scorching heat of summer. Top choice among the Alexandrian vacation goers is the Montazah, nestled in the old district dotted with modern hotels and heritage palaces. Another is the Corniche whose spectacular casinos amid the rows of beach huts make it a destination for the big spenders. At its western end, visitors can find the New Alexandria Library, the Royal Jewelry Museum and the Shatsby Tombs said to be the oldest catacomb in the city.
En route to Alexandria's ancient Roman sites, visitors will sure to be impressed by the intricate details of the structures and building crafted by the artistic hands of its early inhabitants. The Roman Amphitheatre or the "Kom al-Dikka" which boasts a 13 white-marble terrace is among the tourist magnets of the city, apart from the Bibliotheca Alexandrina. There is also the Antique District tucked near the area which sells all sort of vintage finds from books to furniture to old weapons. The Attarine Mosque, once a church dedicated to Athanasius, can be seen near the district which fosters equal eminence and grandiosity.
History enthusiasts can look forward to an of Ptolemaic, Romanesque, Christian and Pharonic antiquities at the Greco Roman Museum, as embodied by relics and old coins from the 3rd century BC to the 7th century AD.
A day is not enough to rummage through all the sights of Alexandria, so it's recommended to allot a day two to see other worthwhile landmarks such as the 90 feet Pompeii's Pillar with its red granite column, the Catacombs of Kom El Shokafa inlaid with elaborate Egyptian and Roman art, and the Fortress of Qaitbay built in honor of the illustrious Sultan Qaitbay nestled in the same place where the ancient lighthouse was erected.
Alexandria Landmarks:
User blogs:
Cheaper galactic spaceliner unveiled
News from http://news.ph.msn.com/top-stories/article.aspx?cp-documentid=3737940 Richard Branson unveiled Monday a commercial spaceliner offering tourists a cheaper chance to experience the thrill of weightlessness and view the splendor of the Earth from space. The British billionaire hopes to offer tickets aboard his spacecraft at a cost of 200,000 dollars each, giving adventurous ... Read full Blog post
Indonesia Eco Tourism
Tour Itenaray Day 01 BALI - LABUAN BAJO – RINCA ISLAND – KOMODO ISLAND (L.D) Pick up from your hotel in Bali and transfer to the airport, for flight to Labuan Bajo (West Flores) for approximately one and half hours. On arrival in Labuan Bajo airport, will be welcomed and met with our local representative or tour guide. Than transfer to the harbour to catch a boat cross to Rinca ... Read full Blog post
San Gimignano and San Pellegrino
Night falls on the flourishing and industrious San Gimignano, its 72 towers stand on the low roofs of the houses lit by the moon. This is not a luxury travel spot but is something you don't see every day. In the distance the clatter of hooves echoed tired in the Via Francigena. The hand of the blacksmith stops beating, the frame of the weaver becomes silent, the streets of the tank only a concert ... Read full Blog post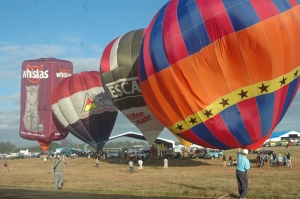 An Aerial fiesta in Clark Pampanga
Its a party in the sky as multi colored hot air balloons piloted ny different pilots from various partso of the world participated in this annual gathering. As early as 5am, the 2,500 hectare aviation complex at Clar Economic Zone in Pampanga was already crammedi with excitement. Clusters of hot air balloon participants busily prepare their own balloons for liftoff as they need to take advantage of ... Read full Blog post