48HourVisit.com

Planning a short visit? Check out

48HourVisit.com

, your online guide for short stays and weekend getaways.

Ad

The Glossary

pronaos - "an entrance hall to the temple leading to the cella."
Cairo is more than deserving of its title "Um al Dunya" or "Mother of the World." Since the 1800's, it has been a playground for the wealthy, first as a wintertime escape for tourists from the US and Europe, and now for the prosperous Saudis and Kuwaitis escaping the heat of their own desert summers. Today's Cairo is far more than the place to stay whey you want to visit the Pyramids. It's a city with its own vibrant culture and nightlife.
Its antiquities, however, remain Cairo's major tourist attractions. The Egyptian Museum has more than 120,000 artifacts on two floors, the most important of which are in the Treasures of Tutankhamen display. King Tut's coffins and solid gold burial mask may just be the most impressive museum pieces on the entire planet! The mummies of several more of ancient Egypt's rulers, including the legendary Seti I and Rameses II, rest near King Tut.
Two residences of Egypt's modern rulers, Abdeen Palace and Manyal Palace, both merit a visit. Although Egypt's last king, Farouk, was deposed in 1952, Abdeen Palace still houses government offices and surprisingly, the tomb of a minor Islamic saint.
Manyal Palace is a whimsical residence situated on an island 1.5 kilometers (1 mile) south of Cairo's central Tahrir Square. Its five buildings are surrounded by the remnants of a magnificent botanical garden. The palace was the creation of Prince Muhammad Ali Twifek, who spared no expense furnishing it with a Throne Room in which he never sat, and priceless carpets and pieces of artwork.
Stroll from Tahrir Square to Manyal Palace along the Nile on Cairo's Corniche, where trees will separate you from the endless traffic and refreshing breezes drift off the water. Overlooking the Corniche is Shepheard's Hotel, an updated version of the hotel of the same name at which T.E. Lawrence, Teddy Roosevelt, and Noel Coward were once guests. The original burned in 1952 and the replacement pales in comparison!
If you like to spend time on the water, you can rent a felucca at a dock across from Shepheard's for a surprisingly small fee, and spend hours relaxing as its captain spends hours tacking back and forth across the Nile. Do it at sunset for incomparably memories of Cairo!
Cross the Qsar-al -Nil Bridge from Tahrir Square to the island of Gezira, where you'll enjoy the greenest area of the city as well as the Cairo Opera House and the National Museum of Egyptian Modern Art. You'll get an unparalleled view of Cairo and its surroundings, including the Great Pyramids, from atop the 187 meter (614 feet) high Cairo Tower.
Seeing the Sphinx and Pyramids from a distance will certainly inspire you to get a closer view, with a short bus or taxi ride from Tahrir Square. Get your tickets in advance, because tours are limited to three hundred people per day.
For a different look into the past, spend time in Islamic Cairo, home to more medieval Islamic monuments and structures than any similarly-sized area in the world. Now referred to as "Fatmid Cairo," it was established in the late 10th century.
The domes and minarets of Fatmid Cairo are visible from everywhere in the city, and you can begin your tour at the Khan al-Khalili bazaar in its center, which can take a day to fully explore. The bazaar has existed in some form since 1384, and you can still bargain for fine cloth, spices, perfume essences, wooden jewelry and boxes, and handcrafted copper pieces.
The Al-Azhar Mosque, the one mosque you should see during your stay in Cairo, borders on the bazaar. For more than a millennium it has been one of the most important centers of Islamic learning.
Due to the Islamic prohibition of alcohol, nightlife in Cairo may seem tame by Western standards. The city's residents are happy to spend their after-dark hours nursing coffee or soft drinks, but you can find alcohol if you want it. Simply go to one of the hotel "discos" for drinks, dancing, karaoke, and live music. "Nightclubs" offer food accompanied by belly dancing or some other form of entertainment.
Cairo Traveler Advice
User blogs:
Cheaper galactic spaceliner unveiled
News from http://news.ph.msn.com/top-stories/article.aspx?cp-documentid=3737940 Richard Branson unveiled Monday a commercial spaceliner offering tourists a cheaper chance to experience the thrill of weightlessness and view the splendor of the Earth from space. The British billionaire hopes to offer tickets aboard his spacecraft at a cost of 200,000 dollars each, giving adventurous ... Read full Blog post
Indonesia Eco Tourism
Tour Itenaray Day 01 BALI - LABUAN BAJO – RINCA ISLAND – KOMODO ISLAND (L.D) Pick up from your hotel in Bali and transfer to the airport, for flight to Labuan Bajo (West Flores) for approximately one and half hours. On arrival in Labuan Bajo airport, will be welcomed and met with our local representative or tour guide. Than transfer to the harbour to catch a boat cross to Rinca ... Read full Blog post
San Gimignano and San Pellegrino
Night falls on the flourishing and industrious San Gimignano, its 72 towers stand on the low roofs of the houses lit by the moon. This is not a luxury travel spot but is something you don't see every day. In the distance the clatter of hooves echoed tired in the Via Francigena. The hand of the blacksmith stops beating, the frame of the weaver becomes silent, the streets of the tank only a concert ... Read full Blog post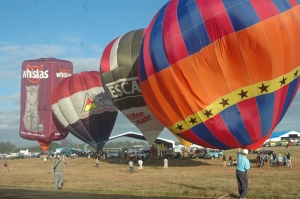 An Aerial fiesta in Clark Pampanga
Its a party in the sky as multi colored hot air balloons piloted ny different pilots from various partso of the world participated in this annual gathering. As early as 5am, the 2,500 hectare aviation complex at Clar Economic Zone in Pampanga was already crammedi with excitement. Clusters of hot air balloon participants busily prepare their own balloons for liftoff as they need to take advantage of ... Read full Blog post