48HourVisit.com

Planning a short visit? Check out

48HourVisit.com

, your online guide for short stays and weekend getaways.

Ad

The Glossary

choli - "is a midriff-baring blouse worn in Bangladesh and in some other parts of Asia like India, Pakistan and Sri Lanka where the sari is worn."
Rajshahi Division Travel Guide

/
Asia
/
Bangladesh
/
Rajshahi Division
/ Introduction
Snuggled by the confluence of the rivers Padma and Jamuna, the fertile land of Rajshahi Division has one of the greenest landscapes in Bangladesh. As the province is expansive and offers a lot of destinations for tourists, Rajshahi Division's doors are always open to reveal its inimitable beauty. While in the Silk City of Rajshahi, visitors can allot a day tour to see other attractions such as the Varendra Reseach Museum, the Shrine of Hazrat Shah Ruposh, and the temples and mosques that soar in the heart of town.
From the town center, tourists can head to Paharpur where the largest Buddshist Vihara (monastery) is located—a treasured heritage for its striking style similar to the grandeur of the pagan temples of Loro Jongrang and Chandi Sewu in Central Java. Much of the ruins are still intact, covering as much as 27 acres of land and featuring elaborate architecture and Bhamanical stone sculpture. Another architectural attraction is the Kantaji Temple in Dinajpur, a classic example of a terracotta architecture having a nava-ratna (nine-spire style).
Those who have time for a more in-depth exploration can arrange a road trip to the ancient city of Mahasthangarh to see the fortified ruins of monasteries and temples such as the Mankalir Kunda, Govinda Bhita Temple, Parasumer Bedi, Khodai Pathar and Jiyat Kuna. The towns of Puthia and Natore are also worthy of a visit for its temples and sadhus (monks) along the way mumbling Bengali chants.
With all these religious and archeological sites, Rajshahi Division beckons travelers to discover its history and former glory as evoked by the ruins and the structures that have passed the test of time.
Rajshahi Division Landmarks:
User blogs:
Cheaper galactic spaceliner unveiled
News from http://news.ph.msn.com/top-stories/article.aspx?cp-documentid=3737940 Richard Branson unveiled Monday a commercial spaceliner offering tourists a cheaper chance to experience the thrill of weightlessness and view the splendor of the Earth from space. The British billionaire hopes to offer tickets aboard his spacecraft at a cost of 200,000 dollars each, giving adventurous ... Read full Blog post
Indonesia Eco Tourism
Tour Itenaray Day 01 BALI - LABUAN BAJO – RINCA ISLAND – KOMODO ISLAND (L.D) Pick up from your hotel in Bali and transfer to the airport, for flight to Labuan Bajo (West Flores) for approximately one and half hours. On arrival in Labuan Bajo airport, will be welcomed and met with our local representative or tour guide. Than transfer to the harbour to catch a boat cross to Rinca ... Read full Blog post
San Gimignano and San Pellegrino
Night falls on the flourishing and industrious San Gimignano, its 72 towers stand on the low roofs of the houses lit by the moon. This is not a luxury travel spot but is something you don't see every day. In the distance the clatter of hooves echoed tired in the Via Francigena. The hand of the blacksmith stops beating, the frame of the weaver becomes silent, the streets of the tank only a concert ... Read full Blog post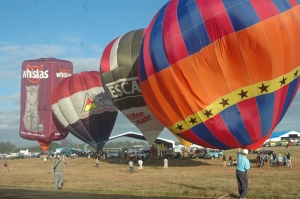 An Aerial fiesta in Clark Pampanga
Its a party in the sky as multi colored hot air balloons piloted ny different pilots from various partso of the world participated in this annual gathering. As early as 5am, the 2,500 hectare aviation complex at Clar Economic Zone in Pampanga was already crammedi with excitement. Clusters of hot air balloon participants busily prepare their own balloons for liftoff as they need to take advantage of ... Read full Blog post