48HourVisit.com

Planning a short visit? Check out

48HourVisit.com

, your online guide for short stays and weekend getaways.

Ad

The Glossary

mondir - "a small Hindu temple."
Paharpur Travel Guide

/
Asia
/
Bangladesh
/
Paharpur
/ Introduction
Paharpur is the largest Buddhist Vihara (monastery) in the south of Himalayas in the district of Rajshahi, about five kilometers west of Jamalgani in Bangladesh. Paharpur is a treasured heritage of the world both historically and architecturally. It set a striking new style of temple building on a grand scale that is truly Asian, later followed by the pagan temples in Burma and the Chandi Sewu and Loro Jongrang Temples in Central Java.
The monastery landscape is somewhat similar to that of Macchu Picchu in Peru. It was established by King Dharma Pal in the 7th century and is regarded as the most prominent monastery established in the Himalayas. The site covers about 27 acres of land. The elaborate gateway complex houses 45 cells on the north and 44 on the side with a total number of 177 rooms, arranged in regular rows, for monks. The basement wall of the edifice is embellished with Brahmanical stone sculpture, which runs into two lower terraces and rows of terracotta plaques. The planning and design of the pyramidal cruciform, with its numerous stupas, minor chapels and ancillary building, is strongly influenced by those of South and East Asian neighbors like Java and Myanmar. A small area in the site is earmarked for keeping the artifacts in place. Among the collections are plaques, terracotta sculptures, different images of gods and goddesses, old coins, potteries, some ornamental bricks and clay objects with inscriptions.
From the available historical records we can safely conclude that the Paharpur is closely linked with Nalanda Mahavihara at Magadha. Records also show that this monastery had been viewed as the eyes of the world. Dipamkara Srijnana Atisa, who lived in Dhaka for several years, asserts that the Paharpur has long been an important center of pilgrimage and learning for the Tibetan Buddhists throughout the halcyon days and even in modern times.
To get to Paharpur, take a bus to Jaipuhat and then catch the bus, which usually leaves around 7 in the morning and 4 in the afternoon. It is your option to take a rickshaw to get to the sight up close.
User blogs:
Cheaper galactic spaceliner unveiled
News from http://news.ph.msn.com/top-stories/article.aspx?cp-documentid=3737940 Richard Branson unveiled Monday a commercial spaceliner offering tourists a cheaper chance to experience the thrill of weightlessness and view the splendor of the Earth from space. The British billionaire hopes to offer tickets aboard his spacecraft at a cost of 200,000 dollars each, giving adventurous ... Read full Blog post
Indonesia Eco Tourism
Tour Itenaray Day 01 BALI - LABUAN BAJO – RINCA ISLAND – KOMODO ISLAND (L.D) Pick up from your hotel in Bali and transfer to the airport, for flight to Labuan Bajo (West Flores) for approximately one and half hours. On arrival in Labuan Bajo airport, will be welcomed and met with our local representative or tour guide. Than transfer to the harbour to catch a boat cross to Rinca ... Read full Blog post
San Gimignano and San Pellegrino
Night falls on the flourishing and industrious San Gimignano, its 72 towers stand on the low roofs of the houses lit by the moon. This is not a luxury travel spot but is something you don't see every day. In the distance the clatter of hooves echoed tired in the Via Francigena. The hand of the blacksmith stops beating, the frame of the weaver becomes silent, the streets of the tank only a concert ... Read full Blog post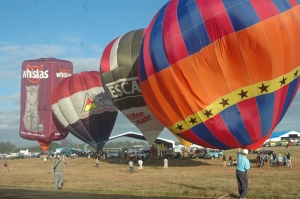 An Aerial fiesta in Clark Pampanga
Its a party in the sky as multi colored hot air balloons piloted ny different pilots from various partso of the world participated in this annual gathering. As early as 5am, the 2,500 hectare aviation complex at Clar Economic Zone in Pampanga was already crammedi with excitement. Clusters of hot air balloon participants busily prepare their own balloons for liftoff as they need to take advantage of ... Read full Blog post