48HourVisit.com

Planning a short visit? Check out

48HourVisit.com

, your online guide for short stays and weekend getaways.

Ad

The Glossary

Wat - "a word which means temple."
Chiang Mai Travel Guide

/
Asia
/
Thailand
/
Chiang Mai
/ Introduction
Have You Been to Chiang Mai Yet?
Locals often pose this question to foreigners visitors, as if it is a sin not to do so. Chiang Mai stands as Thailand's premier city after Bangkok, and is a tourist's glimpse into the heart and soul of a nation. It is a city born out of a blissful marriage between natural scenery and exoticism, with its location by the beautiful Himalayan foothills and being the former capital of the ancient Lanna Kingdom.
Just 700 kilometers north of the country capital Bangkok, Chiang Mai feels like a world away. If the former is frenetic and thoroughly modernized, the latter has managed to preserve its ancient atmosphere - as evident in its array of hill tribes and more than 300-strong temples.
Cultural Hotspot
Though Chiang Mai has, in the past decades, developed an urban sophistication, the change is merely skin-deep. Since its foundation in 1296, it had been isolated for much of its existence, reached only via river and elephant trips until the early 1920s.
As such, it still has retained it indigenous identity. The Wat Phra That Doi Suthep and Wat Chedi Luang are testaments to the native architecture. Ethnic communities of Karen, Hmong, and Lahu continue to thrive in the 21st century. Chiang Mai Flower Festival reveals its multitude of colors.
Travels in the "Rose of the North""
A visit to Chiang Mai doesn't end with its culture, though. Nature excursions are also at a premium there, offering the chance to scale the mighty Doi Suthep Peak at 1,676 meters high, or go sightseeing by the banks of the Ping River that bisects the city.
Travelers find that Chiang Mai is truly a green city, with just a whiff of cosmopolitan air. Bicycle tours are great ways to explore the surrounding mountains and countryside. For a more exotic experience, though, elephant safaris are the way to go.
Chiang Mai Landmarks:
User blogs:
Cheaper galactic spaceliner unveiled
News from http://news.ph.msn.com/top-stories/article.aspx?cp-documentid=3737940 Richard Branson unveiled Monday a commercial spaceliner offering tourists a cheaper chance to experience the thrill of weightlessness and view the splendor of the Earth from space. The British billionaire hopes to offer tickets aboard his spacecraft at a cost of 200,000 dollars each, giving adventurous ... Read full Blog post
Indonesia Eco Tourism
Tour Itenaray Day 01 BALI - LABUAN BAJO – RINCA ISLAND – KOMODO ISLAND (L.D) Pick up from your hotel in Bali and transfer to the airport, for flight to Labuan Bajo (West Flores) for approximately one and half hours. On arrival in Labuan Bajo airport, will be welcomed and met with our local representative or tour guide. Than transfer to the harbour to catch a boat cross to Rinca ... Read full Blog post
San Gimignano and San Pellegrino
Night falls on the flourishing and industrious San Gimignano, its 72 towers stand on the low roofs of the houses lit by the moon. This is not a luxury travel spot but is something you don't see every day. In the distance the clatter of hooves echoed tired in the Via Francigena. The hand of the blacksmith stops beating, the frame of the weaver becomes silent, the streets of the tank only a concert ... Read full Blog post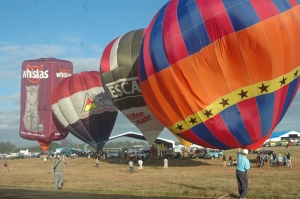 An Aerial fiesta in Clark Pampanga
Its a party in the sky as multi colored hot air balloons piloted ny different pilots from various partso of the world participated in this annual gathering. As early as 5am, the 2,500 hectare aviation complex at Clar Economic Zone in Pampanga was already crammedi with excitement. Clusters of hot air balloon participants busily prepare their own balloons for liftoff as they need to take advantage of ... Read full Blog post