48HourVisit.com

Planning a short visit? Check out

48HourVisit.com

, your online guide for short stays and weekend getaways.

Ad

The Glossary

Bia - "Thai-speak for beer."
The First Stop
Bangkok is the fitting introduction to Thailand. Some 11 million foreign visitors arrive at the capital's sleek and ultra-modern Suvarnabhumi Airport every year. It ranks after tourist magnets Paris and London in that respect, proving its standing as one of the world's most popular hotspots. The city is unique in its own right with two distinct personalities - one an overwhelmingly modern attitude, the other a hint of exoticism.
Earning an annual revenue of roughly US$89 billion, Bangkok has ushered in a state of rapid modernization. In the past decade, it had sprouted a concrete landscape, fancy shopping centers, and urban traffic gridlocks. Underneath all that, it has retained much of its culture, with historical landmarks like the Grand Palace and the Vimanmek Palace Complex providing the local color.
Shoppers Here, There, and Everywhere
Travelers in the city usually find themselves doing more than their share of shopping, apart from sightseeing. It is not surprising, considering that shopping is a typical pastime in a land teeming with shopping malls and street markets of all types. Not to mention that the variety of goods are vastly cheaper compared to their Western counterparts.
Bangkok's Sukhumvit area is a mecca for shopping enthusiasts. Buy clothes for bargain prices in the massive Chatuchak Weekend Market; unique handicraft from its army of night markets; and treat oneself to the variety of fresh produce available at the famous floating market at the Chao Phraya River.
One Night in Bangkok, and Then Some
The torch of being the nation's capital was passed from old Ayutthaya to Bangkok in 1782, effectively turning it into Thailand's cultural, economical, and spiritual center. It has since become one of Asia's most cosmopolitan cities, almost seeming to never run out of getaway locations for tourists.
Travelers can experience its wealth of historical sites like the ancient Wat Suthat, one of its oldest temples; Wat Pho, its largest; and Wat Saket, which houses relics from the sacred Buddha. It is also inevitable for one to encounter Bangkok's famous entertainment scene, from the countless bars and discos to the adults-only clubs lining its red-light districts.
Bangkok Landmarks:
Bangkok Traveler Advice
Bangkok photography
The smell was aweful by
Communitriper
Koahsan road by
Communitriper
User blogs:
What to see in Salzburg, Austria
Salzburg is a charming town on the banks of the Salzach River. On the left bank, on top of the Monchsberg, stands the fortress, which dominates the center of town with many houses in the '500 and '600. In addition to wander through the streets and pastries, you can visit the Cathedral, the Residenz in which they lived archbishops and princes, the castle of Maribel with the beautiful gardens ... Read full Blog post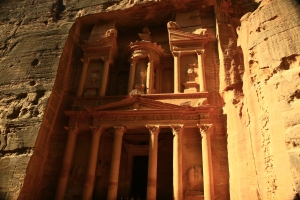 I wish I was Johann Ludwig Burckhardt
Some first encounters are ireplaceable, they can happen once and the impact is something you can't replicate afterwards, Imagine yourself being swiss explorer Johann Ludwig Burckhardt (why do they have to have such complicated names? whats wrong with just Van Dam??), Johann was an explorer and toured the middle east/african region back in the 18th century, GPS was still an expensive gadget for young ... Read full Blog post
Palace on Wheels : A Royal Luxury Train Tour in India
Palace on Wheels is one of the most popular luxury trains running in India. It presents a great chance to travelers from across the globe to explore the fabulous destination Rajasthan and Agra sitting in the lap of exquisite luxury of the train. It is a well-known fact that Indian royalty was too fond of luxury trains. The princes of various princely states got their trains customized in England ... Read full Blog post