48HourVisit.com

Planning a short visit? Check out

48HourVisit.com

, your online guide for short stays and weekend getaways.

Ad

The Glossary

Tom Yum - "a very popular Thai dish around the world, it is a savory soup known for being extremely sour and spicy."
Central Thailand Travel Guide

/
Asia
/
Thailand
/
Central Thailand
/ Introduction
Regarded as the nation's heartland, Central Thailand is the focal point of the booming economy and a repository of cultural heritage. This is where the modern meets the traditional: a unique landscape with imposing skyscrapers, ever-growing coastal highways and advanced power stations set against a backdrop of fertile rice plains, lush fruit orchards and revered archaeological wonders. It is almost apparent, therefore, the land enjoys some of the highest concentration of tourists, boasting of the best destinations the country can offer.
Made up of 26 provinces, Central Thailand offers a vast wealth of treasures to uncover. Probably the most common starting point for any tourist is the capital Bangkok, which prides itself in being the foremost metropolis in the region, bustling with world-class hotel accommodations and restaurants. Among all else, it is also usually the springboard for the trips to other wonderful attractions such as the historic Ayutthaya Province. An ancient land which once served as the seat of power for the great Ayutthaya Kingdom, the province remains the major site for temples, pagodas and other cultural heritage sites built during the ancient times.
The region's coasts, on the other hand, present amazing scenery and spectacular resorts that attract backpackers, adventurers and vacationers. Some of the best beaches are located in the picturesque Ko Samet, in the veritable remote haven Ko Chang, in the hedonistic playground Pattaya, and in the country's original beach destination Hua Hin.
In terms of national preserve parks that feature Mother Nature at her finest, Central Thailand has a welter of offerings such as the vast Thungyai-Huai Kha Khaeng Wildlife Sanctuaries (a UNESCO World Heritage Site) and Khao Sam Roi Yod National Park called as the "land of 300 peaks." Without a doubt, Central Thailand never ceases to surprise and amaze, truly living up to its distinction as the heart of the nation.
User blogs:
Cheaper galactic spaceliner unveiled
News from http://news.ph.msn.com/top-stories/article.aspx?cp-documentid=3737940 Richard Branson unveiled Monday a commercial spaceliner offering tourists a cheaper chance to experience the thrill of weightlessness and view the splendor of the Earth from space. The British billionaire hopes to offer tickets aboard his spacecraft at a cost of 200,000 dollars each, giving adventurous ... Read full Blog post
Indonesia Eco Tourism
Tour Itenaray Day 01 BALI - LABUAN BAJO – RINCA ISLAND – KOMODO ISLAND (L.D) Pick up from your hotel in Bali and transfer to the airport, for flight to Labuan Bajo (West Flores) for approximately one and half hours. On arrival in Labuan Bajo airport, will be welcomed and met with our local representative or tour guide. Than transfer to the harbour to catch a boat cross to Rinca ... Read full Blog post
San Gimignano and San Pellegrino
Night falls on the flourishing and industrious San Gimignano, its 72 towers stand on the low roofs of the houses lit by the moon. This is not a luxury travel spot but is something you don't see every day. In the distance the clatter of hooves echoed tired in the Via Francigena. The hand of the blacksmith stops beating, the frame of the weaver becomes silent, the streets of the tank only a concert ... Read full Blog post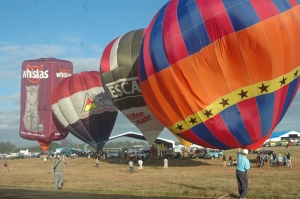 An Aerial fiesta in Clark Pampanga
Its a party in the sky as multi colored hot air balloons piloted ny different pilots from various partso of the world participated in this annual gathering. As early as 5am, the 2,500 hectare aviation complex at Clar Economic Zone in Pampanga was already crammedi with excitement. Clusters of hot air balloon participants busily prepare their own balloons for liftoff as they need to take advantage of ... Read full Blog post