48HourVisit.com

Planning a short visit? Check out

48HourVisit.com

, your online guide for short stays and weekend getaways.

Ad
Palumeu Travel Guide

/
South America
/
Suriname
/
Palumeu
/ Introduction
Palumeu is an ideal place for adventure. By water, trips to destinations are ruled by repeated rides of the dug-out canoe along turbulent, adrenaline-pumping rapids. By land, it will be walking past Mammoth stones towards Amerindian villages is the de rigueur. After a little exercise, however, nature will give everyone a warm hug.
Situated 270 km. south of Paramaribo, Palumeu can be reached in 65 minutes by aircraft from the capital or for daredevils, eight to 12 days via river rapids. The flight to the village offers virtual treats such as the Brownsberg nature park and its Brokopondo hydro-lake, the world's biggest manmade lake. As clouds reveal a sharp view of the Roosevelt Peak and the Kasikasima Mountain, visitors know that the airplane is about to land.
A rough trip by dug-out canoe takes one to a chip of the vast Amazon Rainforest, and from there, the climb to Poti Hill commences with a chorus of birds and howler monkeys. As if giving a tour of the Amazon's open-air natural museum, a guide fills the 75-minute hike to the village with stories about Poti Hill's flora and fauna and the plants' medicinal boons to the tribes. These stories come to life in surroundings filled with unique views of the rivers and southern Suriname's mountain tops.
Upon arrival at the riverbanks of the Tapanahoni, strangers brush with a shy Amerindian people, about 200 of whom comprise the tribes of Trio and Wajana, the stewards of Palumeu. These tribes live peacefully despite a language barrier. Although entertaining guests is not their cup of tea, they are hospitable and willing to take the visitors with them through their everyday lifestyle like hunting for poultry and fish and digging the soil for their main delicacy, manioc, a woody tuber akin to cassava. Archery is the natives' favorite pastime, and guests are welcomed to take part.
As the tribes started making some money out of tourism, they installed facilities such as toilets and showers into their jungle-style houses. Although they have their own arts and crafts to show, they have also ridden the technological wave and relied on Paramaribo for their supply of mundane things like kitchenware and clothing.
User blogs:
Cheaper galactic spaceliner unveiled
News from http://news.ph.msn.com/top-stories/article.aspx?cp-documentid=3737940 Richard Branson unveiled Monday a commercial spaceliner offering tourists a cheaper chance to experience the thrill of weightlessness and view the splendor of the Earth from space. The British billionaire hopes to offer tickets aboard his spacecraft at a cost of 200,000 dollars each, giving adventurous ... Read full Blog post
Indonesia Eco Tourism
Tour Itenaray Day 01 BALI - LABUAN BAJO – RINCA ISLAND – KOMODO ISLAND (L.D) Pick up from your hotel in Bali and transfer to the airport, for flight to Labuan Bajo (West Flores) for approximately one and half hours. On arrival in Labuan Bajo airport, will be welcomed and met with our local representative or tour guide. Than transfer to the harbour to catch a boat cross to Rinca ... Read full Blog post
San Gimignano and San Pellegrino
Night falls on the flourishing and industrious San Gimignano, its 72 towers stand on the low roofs of the houses lit by the moon. This is not a luxury travel spot but is something you don't see every day. In the distance the clatter of hooves echoed tired in the Via Francigena. The hand of the blacksmith stops beating, the frame of the weaver becomes silent, the streets of the tank only a concert ... Read full Blog post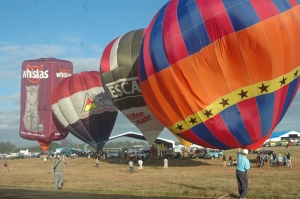 An Aerial fiesta in Clark Pampanga
Its a party in the sky as multi colored hot air balloons piloted ny different pilots from various partso of the world participated in this annual gathering. As early as 5am, the 2,500 hectare aviation complex at Clar Economic Zone in Pampanga was already crammedi with excitement. Clusters of hot air balloon participants busily prepare their own balloons for liftoff as they need to take advantage of ... Read full Blog post