48HourVisit.com

Planning a short visit? Check out

48HourVisit.com

, your online guide for short stays and weekend getaways.

Ad
Paramaribo Travel Guide

/
South America
/
Suriname
/
Paramaribo
/ Introduction
Rustic South America meets European grandeur in Paramaribo. A trip to this northern capital is a trip down the memory lane of the contact between Europe and South America during the European colonization of Suriname from 16th to 17th century. Hundreds of tortured African slaves built this city's historic center from South American resources following Europe's architectural and structural prowess. Such fusion ultimately led to the 2002 UNESCO declaration making Paramaribo a World Heritage Site.
Locally known as "Parbo," Paramaribo was built by the Dutch as a trading post until the English took control of the city in 1630 and in 1650, turning it into Suriname's capital. The city changed hands between the English and the Dutch again until the latter finally won the upper grip on the capital and gave it its independence in 1975.
The city's original street plan remains intact with buildings that illustrate the Dutch touch on traditional local materials. An example of these edifices is the black-and white, waterfront houses near the Suriname River.
As the cauldron of Suriname's diverse cultures, Paramaribo sets the stage for inter-religious dialogue. It is one of the few cities in the world wherein a synagogue sits next to a mosque, even sharing the same parking space. There are also the Arya Dewaker Hindu Temple and the Catholic Cathedral of Sts. Peter and Paul, which are among the largest of their kind in the Caribbean.
Even though the city does not have many attractions and activities, it has modern inns, hotels, international restaurants, bars, and an airport, which may make tourists feel grounded in contemporary civilization especially after encountering Suriname's wilds.
Paramaribo Landmarks:
User blogs:
Cheaper galactic spaceliner unveiled
News from http://news.ph.msn.com/top-stories/article.aspx?cp-documentid=3737940 Richard Branson unveiled Monday a commercial spaceliner offering tourists a cheaper chance to experience the thrill of weightlessness and view the splendor of the Earth from space. The British billionaire hopes to offer tickets aboard his spacecraft at a cost of 200,000 dollars each, giving adventurous ... Read full Blog post
Indonesia Eco Tourism
Tour Itenaray Day 01 BALI - LABUAN BAJO – RINCA ISLAND – KOMODO ISLAND (L.D) Pick up from your hotel in Bali and transfer to the airport, for flight to Labuan Bajo (West Flores) for approximately one and half hours. On arrival in Labuan Bajo airport, will be welcomed and met with our local representative or tour guide. Than transfer to the harbour to catch a boat cross to Rinca ... Read full Blog post
San Gimignano and San Pellegrino
Night falls on the flourishing and industrious San Gimignano, its 72 towers stand on the low roofs of the houses lit by the moon. This is not a luxury travel spot but is something you don't see every day. In the distance the clatter of hooves echoed tired in the Via Francigena. The hand of the blacksmith stops beating, the frame of the weaver becomes silent, the streets of the tank only a concert ... Read full Blog post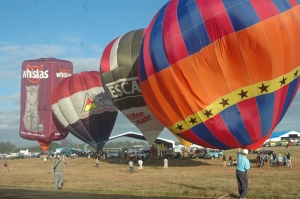 An Aerial fiesta in Clark Pampanga
Its a party in the sky as multi colored hot air balloons piloted ny different pilots from various partso of the world participated in this annual gathering. As early as 5am, the 2,500 hectare aviation complex at Clar Economic Zone in Pampanga was already crammedi with excitement. Clusters of hot air balloon participants busily prepare their own balloons for liftoff as they need to take advantage of ... Read full Blog post