48HourVisit.com

Planning a short visit? Check out

48HourVisit.com

, your online guide for short stays and weekend getaways.

Ad

The Glossary

thawb - "loose garment with long sleeved worn by Saudi men."
Dhahran Travel Guide

/
Middle East
/
Saudi Arabia
/
Dhahran
/ Introduction
Lying just south of Dammam close to the Arabian Gulf is Dhahran, Saudi Arabia's oil capital. In terms of size, Dhahran is just a tiny town with a relatively small population, but in terms of oil reserve, it has the largest in Arabia. The city, however, is not only famous for its oil but also for its several private beaches frequented not only by vacationers and regular beachgoers but also by BMX bikers with a penchant for dirt road tracking.
The charm of isolation
A sense of isolation from the outside world may be felt once visitors get into the pseudo-military compound of Dhahran, which is fenced and cannot be easily accessed as the government has declared it a restricted area. Interestingly, the compound has its own recreational amenities including pools, tennis courts, a golf course, arcade, weight rooms, and even a movie theater.
Intellectual hub
Aside from the secluded compound, there are also some developments in the suburbs where apartment complexes and company houses are being built to answer the needs of the people especially the Arab employees. Dhahran is also the home of the King Fahad University of Petroleum and Minerals, regarded as the Massachusetts Institute of Technology of Arabia.
Village life
In the north lies the verdant oasis of Al Qatif, a haven of several native towns and villages and a convenient base for visitors want to get away from the hum of the town center.
Shopping galore
Since all businesses in the city close five times a day for prayer, it is best to wake up early if one is planning to rummage many of Dhahran's bazaars where the gold (real 24-karat and higher), fabrics, spices and handicrafts on sale come all the way from Pakistan, Europe, India and the Far East.
User blogs:
What to see in Salzburg, Austria
Salzburg is a charming town on the banks of the Salzach River. On the left bank, on top of the Monchsberg, stands the fortress, which dominates the center of town with many houses in the '500 and '600. In addition to wander through the streets and pastries, you can visit the Cathedral, the Residenz in which they lived archbishops and princes, the castle of Maribel with the beautiful gardens ... Read full Blog post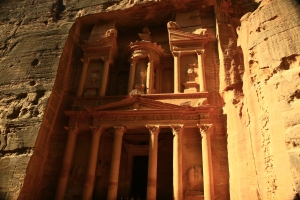 I wish I was Johann Ludwig Burckhardt
Some first encounters are ireplaceable, they can happen once and the impact is something you can't replicate afterwards, Imagine yourself being swiss explorer Johann Ludwig Burckhardt (why do they have to have such complicated names? whats wrong with just Van Dam??), Johann was an explorer and toured the middle east/african region back in the 18th century, GPS was still an expensive gadget for young ... Read full Blog post
Palace on Wheels : A Royal Luxury Train Tour in India
Palace on Wheels is one of the most popular luxury trains running in India. It presents a great chance to travelers from across the globe to explore the fabulous destination Rajasthan and Agra sitting in the lap of exquisite luxury of the train. It is a well-known fact that Indian royalty was too fond of luxury trains. The princes of various princely states got their trains customized in England ... Read full Blog post