48HourVisit.com

Planning a short visit? Check out

48HourVisit.com

, your online guide for short stays and weekend getaways.

Ad

The Glossary

sirwal - "a long or short capacious white pant with sash."
Dammam Travel Guide

/
Middle East
/
Saudi Arabia
/
Dammam
/ Introduction
From a sleepy fishing hamlet, Dammam is now a bustling seaport, thanks to the discovery of oil in its soil. Situated in the Al-Hasa Province of the Persian Gulf near Bahrain, Dammam enjoys its stature as the capital of the Eastern Province and one of the country's top exporters of natural gas and petroleum.
Upon browsing the pages of Dammam's history, several historians found out that the town was originally named Damdama, synonymous to the sound of drums that signal the beginning and end of the hunting season. In lieu of the drums, the buzz at Dammam is created by its over half a million population and centers for trade, commerce, and science.
Historic reminders
Despite the sudden surge of modernity, Dammam still retains the spirit of its past. The Trading Road, for instance, is still standing like a sentinel, guarding the gates of the city center, which opens to Jubail highway, a witness to the town's vivid past. There are also catacombs and remnants of Ottoman houses containing historical references as to who inhabited in the area.
Laidback lifestyle
Apart from the ruined vestiges of human habitation, there are also other attractions that visitors might want to glimpse, including the picturesque seaside project called Dammam Corniche, found along with several cafés, restaurants and art installations straddling the Aziziah Beach to Tarot Island. The greenery of King Fahd Park is at the Dammam-Dhahran Express Road, just north of the Gulf Palace, a 67-acre land speckled with trees, bushes, ornamental pools and other amenities. There are also pocket gardens and lagoons in the area, designed to offer a soothing escape from the hustle and bustle of Riyadh. Another destination is the Half-Moon Bay, just south of Khoba, where visitors can have the opportunity to dive in an offbeat location sans the hordes of tourists.
Commercial hub
Dammam also boasts of a modern port complex called King Abdul Aziz, where visitors can have a lazy afternoon walk on its four jetties, with the possibility of catching gigantic ships sailing towards the ocean. In addition, there are also traditional souks around Damaman like the Souq El Harraj, Souq El Dammam and the Gold Souk Market, which can be easily navigated by foot along with the museums of Heritage Centre Dammam and Dammam National Museum, where visitors can view an extensive collection of Bedouin arts and crafts such as costumes, pottery and Stone Age tools.
User blogs:
What to see in Salzburg, Austria
Salzburg is a charming town on the banks of the Salzach River. On the left bank, on top of the Monchsberg, stands the fortress, which dominates the center of town with many houses in the '500 and '600. In addition to wander through the streets and pastries, you can visit the Cathedral, the Residenz in which they lived archbishops and princes, the castle of Maribel with the beautiful gardens ... Read full Blog post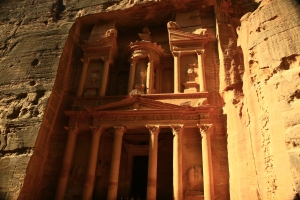 I wish I was Johann Ludwig Burckhardt
Some first encounters are ireplaceable, they can happen once and the impact is something you can't replicate afterwards, Imagine yourself being swiss explorer Johann Ludwig Burckhardt (why do they have to have such complicated names? whats wrong with just Van Dam??), Johann was an explorer and toured the middle east/african region back in the 18th century, GPS was still an expensive gadget for young ... Read full Blog post
Palace on Wheels : A Royal Luxury Train Tour in India
Palace on Wheels is one of the most popular luxury trains running in India. It presents a great chance to travelers from across the globe to explore the fabulous destination Rajasthan and Agra sitting in the lap of exquisite luxury of the train. It is a well-known fact that Indian royalty was too fond of luxury trains. The princes of various princely states got their trains customized in England ... Read full Blog post