48HourVisit.com

Planning a short visit? Check out

48HourVisit.com

, your online guide for short stays and weekend getaways.

Ad

The Glossary

sirwal - "a long or short capacious white pant with sash."
Asir Travel Guide

/
Middle East
/
Saudi Arabia
/
Asir
/ Introduction
Unlike the rest of Saudi Arabia that is abound in wilderness and forbidding climate, the town of Asir has a sprawling greenery, towering mountains, and cool breezes. The town might be elevated at 8,500 feet, yet this plateau region near the Yemeni Border is one of the most sought-after destinations in Arabia, not only for its diverse cultural heritage but also because of its high altitude, which makes it an ideal getaway during the heat of the summer months.
Garden of Saudi Arabia
Dubbed as the "Garden of Saudi Arabia," Asir is the home of the Sarat tribes from the central highlands of Abha, as well as to the Tihamas of Jizan, and the Badiyan tribes of Najran Oasis, which are renowned for their impressive mud brick fortress homes known as qasr. Much of Asir's inhabitants are skilled farmers that can be frequently seen tending cliff-side terraces, unlike in the rest of Arabia wherein the Bedouins can be spotted herding their camels in the desert.
Nature walks and trails
While in Asir, visitors can take pleasure in a wide variety of activities. Abha town, for instance, houses the Asir National Park, where visitors can have nature walks and trails. There is also the historic Shada palace, which used to be the home of the first emir or prince of Abha.
Flora and fauna
There are also cable cars offering lifts to the top of the mountain, where visitors can have a peek at the region's scenic valley and lake. Mid-morning is the best time to tread the footpaths running through the hills. From here, travelers can have a peaceful picnic in a pristine landscape dotted with rare animals and birds.
Island living
Other points of interest include the Red Sea port town of Jizan, where visitors can find shabby huts and the ever-present "flower man;" as well as the huge Najran Fort in Najran, and the secluded island of Farasan.
Village art and cuisine
Excursions out of Asir are also possible, including trips to the villages of Habla and Khamis Mushayt, prominent due to their sheer drops and their ancient community of villagers selling traditional handicrafts and antiques. Visitors can also sample the local cuisine while shopping.
User blogs:
What to see in Salzburg, Austria
Salzburg is a charming town on the banks of the Salzach River. On the left bank, on top of the Monchsberg, stands the fortress, which dominates the center of town with many houses in the '500 and '600. In addition to wander through the streets and pastries, you can visit the Cathedral, the Residenz in which they lived archbishops and princes, the castle of Maribel with the beautiful gardens ... Read full Blog post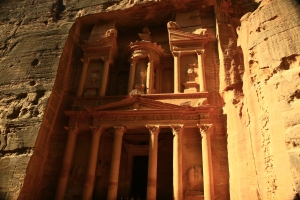 I wish I was Johann Ludwig Burckhardt
Some first encounters are ireplaceable, they can happen once and the impact is something you can't replicate afterwards, Imagine yourself being swiss explorer Johann Ludwig Burckhardt (why do they have to have such complicated names? whats wrong with just Van Dam??), Johann was an explorer and toured the middle east/african region back in the 18th century, GPS was still an expensive gadget for young ... Read full Blog post
Palace on Wheels : A Royal Luxury Train Tour in India
Palace on Wheels is one of the most popular luxury trains running in India. It presents a great chance to travelers from across the globe to explore the fabulous destination Rajasthan and Agra sitting in the lap of exquisite luxury of the train. It is a well-known fact that Indian royalty was too fond of luxury trains. The princes of various princely states got their trains customized in England ... Read full Blog post