48HourVisit.com

Planning a short visit? Check out

48HourVisit.com

, your online guide for short stays and weekend getaways.

Ad

The Glossary

feluccas - "a traditional wooden sailing boat used in protected waters of the Red Sea, the Mediterranean and particularly along the Nile in Egypt."
Red Sea Coast Travel Guide

/
Africa
/
Egypt
/
Red Sea Coast
/ Introduction
The Red Sea Coast, straddling between the Suez Canal and the Sudan border, intrigues the imagination. It is in the Red Sea where the Eastern Desert meets the ocean and the place where hermits seeking solitude share the wilderness with the camel-trading Bedouin. Timestone cliffs and sharply cut wadis (valleys) of the desert remain unperturbed and are home to gazelles and wild ibex. Punctuated by ports, Red Sea also boasts of colorful reefs and diverse underwater life.
Endowed with sun-kissed beaches, breathtaking diving sites and historical significance, this corner of Egypt promises leisure, fun and discovery. The number of resorts that hugs the shoreline of the Red Sea provides a perfect blend of ingredients for a beach holiday ala Caribbean sans the exorbitant bills.
The stately reputation of Red Sea was tainted due to the excesses of Hurghada, a bustling town and a gateway to some of Red Sea prime diving sites. Nonetheless, visitors can still enjoy all sorts of activities from swimming, snorkeling and scuba diving to desert safaris, and golf in El Gouna.
Visitors can always drop by at the Coptic monasteries, also known as Red Sea Monasteries, which paint a picturesque sight against the desert as its backdrop. Another worth the visit is the Ottoman Fortress at Al Quseir. To those who wish to dive in a secluded location, Marsa Alam can serve the purpose.
Tawila Island, on the other hand, can be a respite after the buzz of Hurghada where visitors can lounge on a hammock the whole day from where to enjoy the beauty of the island's immaculate beaches and if lucky, a dolphin jumping in the horizon for a touch of magical experience.
User blogs:
Cheaper galactic spaceliner unveiled
News from http://news.ph.msn.com/top-stories/article.aspx?cp-documentid=3737940 Richard Branson unveiled Monday a commercial spaceliner offering tourists a cheaper chance to experience the thrill of weightlessness and view the splendor of the Earth from space. The British billionaire hopes to offer tickets aboard his spacecraft at a cost of 200,000 dollars each, giving adventurous ... Read full Blog post
Indonesia Eco Tourism
Tour Itenaray Day 01 BALI - LABUAN BAJO – RINCA ISLAND – KOMODO ISLAND (L.D) Pick up from your hotel in Bali and transfer to the airport, for flight to Labuan Bajo (West Flores) for approximately one and half hours. On arrival in Labuan Bajo airport, will be welcomed and met with our local representative or tour guide. Than transfer to the harbour to catch a boat cross to Rinca ... Read full Blog post
San Gimignano and San Pellegrino
Night falls on the flourishing and industrious San Gimignano, its 72 towers stand on the low roofs of the houses lit by the moon. This is not a luxury travel spot but is something you don't see every day. In the distance the clatter of hooves echoed tired in the Via Francigena. The hand of the blacksmith stops beating, the frame of the weaver becomes silent, the streets of the tank only a concert ... Read full Blog post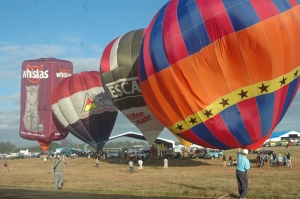 An Aerial fiesta in Clark Pampanga
Its a party in the sky as multi colored hot air balloons piloted ny different pilots from various partso of the world participated in this annual gathering. As early as 5am, the 2,500 hectare aviation complex at Clar Economic Zone in Pampanga was already crammedi with excitement. Clusters of hot air balloon participants busily prepare their own balloons for liftoff as they need to take advantage of ... Read full Blog post