48HourVisit.com

Planning a short visit? Check out

48HourVisit.com

, your online guide for short stays and weekend getaways.

Ad

The Glossary

thawb - "loose garment with long sleeved worn by Saudi men."
Al-Khobar Travel Guide

/
Middle East
/
Saudi Arabia
/
Al-Khobar
/ Introduction
Found in the Eastern Province of the Arabian Peninsula, Al Khobar is one of the three main cities that complete the Greater Dharan or the Triplet Cities, along with Dammam and Dharan. Khobar or Al-Khobar is the youngest and considered as the most pleasant of the bunch, thanks to its Corniches and auspicious seaside location.
Commercial hub
During its earlier days, the town was a humble sea port and a fishing hamlet on the Persian Gulf. It was mainly inhibited by Dawasir tribes, replete with the nondescript shops of local merchants and shopkeepers. Nonetheless, due to the discovery of oil in its land in 1942, Khobar morphed into an industrial port and into the commercial hub of the whole of Eastern Province.
Today, the town is a vibrant city dotted with shopping complexes, restaurants and hotels. The waterfront along the Persian Gulf is now carpeted with a scenic Beirut-like corniche with resorts, parks, a promenade, and fine restaurants being flocked not only by regular visitors but also by the local Sheiks.
Gardens and beaches
Among the well-liked attractions of the city include the Half Moon Bay, the Sunset Bay and the Al-Azizia beach. The coastal town of King Fahad is also another tourist draw for its well-tended gardens and amusement halls.
Shopping spree
Shopping opportunities are likely because of the many shopping complexes found in the city. Some shops even showcase some of the best products from the East and the West. Aside from posh establishments, the city also has a number of factories making gas, dairy products and other types of garments.
User blogs:
What to see in Salzburg, Austria
Salzburg is a charming town on the banks of the Salzach River. On the left bank, on top of the Monchsberg, stands the fortress, which dominates the center of town with many houses in the '500 and '600. In addition to wander through the streets and pastries, you can visit the Cathedral, the Residenz in which they lived archbishops and princes, the castle of Maribel with the beautiful gardens ... Read full Blog post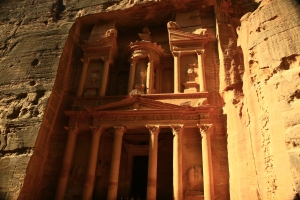 I wish I was Johann Ludwig Burckhardt
Some first encounters are ireplaceable, they can happen once and the impact is something you can't replicate afterwards, Imagine yourself being swiss explorer Johann Ludwig Burckhardt (why do they have to have such complicated names? whats wrong with just Van Dam??), Johann was an explorer and toured the middle east/african region back in the 18th century, GPS was still an expensive gadget for young ... Read full Blog post
Palace on Wheels : A Royal Luxury Train Tour in India
Palace on Wheels is one of the most popular luxury trains running in India. It presents a great chance to travelers from across the globe to explore the fabulous destination Rajasthan and Agra sitting in the lap of exquisite luxury of the train. It is a well-known fact that Indian royalty was too fond of luxury trains. The princes of various princely states got their trains customized in England ... Read full Blog post