48HourVisit.com

Planning a short visit? Check out

48HourVisit.com

, your online guide for short stays and weekend getaways.

Ad

The Glossary

abaya - "a loose black robe worn by Muslim women from head to toe."
Al-Khamasin Travel Guide

/
Middle East
/
Saudi Arabia
/
Al-Khamasin
/ Introduction
Sited in the forbidding landscape of the Empty Quarter is Al-Khamasin or Wadi Al-dawasir, an Arabian Bedouin town renowned for its bachoor or incense and camel. Al-Khamasin is also the home of the Al-Dawasir, Arabia's largest tribe. During the height of spring, the landscape of Al-Khamasin bursts into a bottle green spectacle, drawing caravans of camels and hordes of visitors from different corners of the globe.
Silk Road history
In the ancient times, the town served as a Silk Route of several caravans coming all the way from Jordan, Iraq, Kuwait, Yemen and the United Arab Emirates. Apart from being a trading post, the place has been useful as a resting point before visitors head to the Empty Quarter, where they can get a glimpse of sand dunes shaped in dreamlike forms and are naturally sculpted to rise to over 250 meters.
Tribal culture
The virtually unexplored villages of the town are where visitors can see a mixture of different tribes, which descended from the Dawasir clan. The Al-Dawasir tribes are known for their wealth, power and leadership. They are the ones who gave birth to other cities like Al-Khobar, Ahsa, Zubara and Kuwait City.
User blogs:
What to see in Salzburg, Austria
Salzburg is a charming town on the banks of the Salzach River. On the left bank, on top of the Monchsberg, stands the fortress, which dominates the center of town with many houses in the '500 and '600. In addition to wander through the streets and pastries, you can visit the Cathedral, the Residenz in which they lived archbishops and princes, the castle of Maribel with the beautiful gardens ... Read full Blog post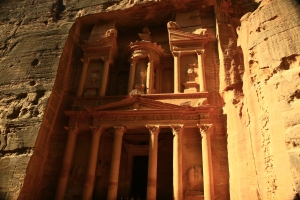 I wish I was Johann Ludwig Burckhardt
Some first encounters are ireplaceable, they can happen once and the impact is something you can't replicate afterwards, Imagine yourself being swiss explorer Johann Ludwig Burckhardt (why do they have to have such complicated names? whats wrong with just Van Dam??), Johann was an explorer and toured the middle east/african region back in the 18th century, GPS was still an expensive gadget for young ... Read full Blog post
Palace on Wheels : A Royal Luxury Train Tour in India
Palace on Wheels is one of the most popular luxury trains running in India. It presents a great chance to travelers from across the globe to explore the fabulous destination Rajasthan and Agra sitting in the lap of exquisite luxury of the train. It is a well-known fact that Indian royalty was too fond of luxury trains. The princes of various princely states got their trains customized in England ... Read full Blog post