48HourVisit.com

Planning a short visit? Check out

48HourVisit.com

, your online guide for short stays and weekend getaways.

Ad

The Glossary

Paalam - "the standard Filipino greeting when going away. it literally means "goodbye"."
Cebu Travel Guide

/
Asia
/
Philippines
/
Cebu Island
/
Cebu
/ Introduction
The province of Cebu is the Philippines' largest sea port and a popular tourist destination. Cebu's blue waters and lush mountains earned the seventh spot in Conde Neast Traveler Magazine's 2007 list of best island destinations in the Indian Ocean-Asia region. Both first time foreign visitors and local tourists find themselves instantly enchanted by this island paradise.
Queen City of the South
The island's main metropolis, Cebu City, is fondly called the "Queen City of the South." It is the commercial, trade, industry, and education center of Visayas. Here, the urban life is balanced with the province's natural landscape. The city is also home to the nation's most historical sites: the Magellan's Cross and Lapu-Lapu Monument. The former site was where Ferdinand Magellan planted a wooden cross during the conversion of locals to Christianity. The Lapu-Lapu Monument commemorates the local hero who killed Magellan during the 1521 Mactan Landing.
Going around the Queen City of the South is best done in one of its colorful jeepneys, the Philippines' most popular form of public transportation. Jeepneys here are works of art compared to those in Metro Manila. Aside from their attractive appearance, Cebu's jeepney drivers are more respectful towards passengers.
Beach Paradise
Cebu's high-end visitors live it up in the luxury accommodations of the Mactan Island and Badian Island. These islands offer the closest views of the province's surrounding waters. More affordable seaside experiences are available in the province's non-commercialized white-sand beaches near Dalaguete, Malapascua or Oslob.
The unspoiled waters surrounding the islands makes Cebu an ideal destination for water sports junkies. Professional and amateur divers will be in underwater heaven, exploring the ocean's diverse marine life. Those who prefer having the clear, blue sky as their background can kayak or go fishing to relax by the island's beautiful blue sea.
Cebu Landmarks:
Cebu photography
along the way to hagnaya by
alexfelices

no title by
alexfelices
the beach by
alexfelices
ogtong cave by
alexfelices
city of Naga church by
alexfelices
runway ala Bantayan by
alexfelices

this is how they Welcome you at Sta. Fe Bantayan by
alexfelices
no title by
alexfelices
User blogs: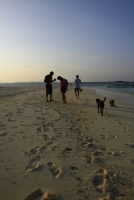 A trip to Siargao
Seeing people that are "living their dream" is always inspirational, it looks so rewarding and peaceful, breaking from the chains of conformism, doing what you always dreamt to do since you were a kid, it doesn't have to make you huge loads of money or bring you world fame just a feeling of self fulfillment, last time I checked, you can't put a price tag on that one. In Siargao ... Read full Blog post
San Gimignano and San Pellegrino
Night falls on the flourishing and industrious San Gimignano, its 72 towers stand on the low roofs of the houses lit by the moon. This is not a luxury travel spot but is something you don't see every day. In the distance the clatter of hooves echoed tired in the Via Francigena. The hand of the blacksmith stops beating, the frame of the weaver becomes silent, the streets of the tank only a concert ... Read full Blog post