48HourVisit.com

Planning a short visit? Check out

48HourVisit.com

, your online guide for short stays and weekend getaways.

Ad
Rotterdam Travel Guide

/
Europe
/
Netherlands
/
Rotterdam
/ Introduction
The modern port city of Rotterdam, Holland with its sky scrapping towers and interesting architectural structures does not at all resemble the city it was before its ultimate destruction in World War II. The city emerged anew after it was bombed by the Germans in 1940 and only three pre-war building stand in the center of the city today. Rotterdam is widely regarded as an architectural playground for architects that were testing out new concepts and because of that the city has become one giant wind tunnel. None the less, the city is a site to be seen particularly if you are fascinated by interesting examples of architecture.
Although Rotterdam is not as well-known as Amsterdam, there is as much to see and do Rotterdam as there is in Amsterdam. The Euromast Space Tower is the symbol of the city and has been extended several times in an effort to maintain its status as the highest building. The tower yields excellent views of the city and the surrounding port area. The harbor in Rotterdam is among the busiest in the world and is a site a worth seeing while touring the city. An additional trip to see the three remaining prewar buildings is worth it as well. Those building are located in the center of the city and they include the City Hall, St. Laurence church and the White House.
Rotterdam like most modern cities is not lacking museums. The city has several note worthy museums worth taking a look at while traveling. The Boymans-van-Beuningen Museum has many fine examples of design displayed along with a wonderful collection of painting and sculptures. The Dutch Institutes of Photography and Architecture have many fantastic galleries as well. Each year in February they host an International film Festival and biannually they host a photo exhibition. The Kunsthal has rotating exhibits and is worth a look along with the other museums.
Generally Rotterdam can easily be toured in one day. However, if you are a fan of architecture it is worth spending several days visiting the many amazing structures. Besides its impressive architecture most tourist visit Rotterdam because of its fantastic museums and bustling nightlife. Rotterdam is definitely worth a tour if you are nearby in Brussels or traveling elsewhere in Holland.
User blogs:
The Easy Way to Find Your Next Flight
Not everyone has experienced the convenience of looking for and booking air travel online. For some people who are not used to online shopping, or for those learning how to browse for the first time it can be a little intimidating at first. It seems like there are a lot of advertisements telling people where to go to book their flight online, but not many articles that take a step-by-step approach ... Read full Blog post
The biggest problem traveling with Bike
The biggest problem for traveling by bike is Transport to the start and from the end of our trip. As a personal trainer I had no big problem with this but I remember like it was yesterday, especially when they come these hot days, when we were kids (that a few decades ago) the only opportunity we had to practice was to grab our bikes cycling, upload them to the door of our house and out from ... Read full Blog post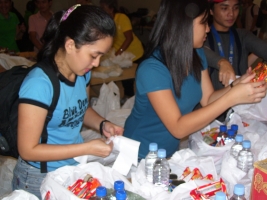 Volunteering for typhoon Ketsana victims
"There's nothing stronger than the heart of a volunteer," says a general in the movie Pearl Harbor. True enough, typhoon Ondoy (internationally nicknamed Ketsana) may have proven its might by destroying hundreds of lives and hundreds more in houses and properties, yet this monster-of-a-calamity did not win in devastating the faith and Good Samaritan-spirit of thousands of men and ... Read full Blog post