48HourVisit.com

Planning a short visit? Check out

48HourVisit.com

, your online guide for short stays and weekend getaways.

Ad

The Glossary

yokwe - "means "hello," "aloha," "love" or "goodbye.""
Kwajalein Travel Guide

/
South Pacific
/
Marshall Island
/
Kwajalein
/ Introduction
Over the years, the major atoll of Kwajalein has established itself not only as one of the world's largest coral atolls surrounding one of the biggest lagoons on the planet, but also as an important player in wartime history. In Marshallese cosmology, Kwajalein was the domicile of a copiously flowering utilomar tree from which great blessings flow according to the Ralik tribe. People from all over the place would then gather the tree's flowers. The name Kwajalein has been derived from Ri-ruk-jan-leen or "people who harvest the flowers."Simply called Kwaj by the English speakers, Kwajalein is on lease by the US military since 1944 when American forces captured the atoll in the Battle of Kwajalein. The atoll is now home to at least 1,000 American and Marshallese employees who are engaged in US programs such as missile testing, space operations support, and navigational systems. Kwajalein's military history has made tourism almost non-existent. One should easily recollect that it was the target of most of the bombs released during the 1944 Pacific War. More than 36 thousand shells of naval and ground artillery left at least ten thousand casualities on the Island. The mass graves of the Americans, Japanese, Koreans and Marshallese who died in the war are strewn all over the atoll, marked by memorials, which are often visited by their bereaved families. The Japanese revere the memorials as sacred, and so are the sites of sunken ship and airplane wrecks in Kwajalein Lagoon, but still, divers keep on coming. A particular must-see is the soaked German cruiser Prinz Eugen, which was used during the Bikini Atoll weapons tests. Spear fishing and deep-sea fishing are also common. During low tide, it is possible to wade across Kwajalein's reef towards the nearby Little Bastard Island. However you will need a boat for hopping to other islands such as Nell, Enmat and Bigej, which have lush tropical jungles, traditional villages, and corals for snorkeling. Ebeye Island, which has one of the highest population densities on Earth, is a good destination for its wall-to-wall tenements and friendly children greeting strangers with a warm "yokwe" (hello).
User blogs:
Cheaper galactic spaceliner unveiled
News from http://news.ph.msn.com/top-stories/article.aspx?cp-documentid=3737940 Richard Branson unveiled Monday a commercial spaceliner offering tourists a cheaper chance to experience the thrill of weightlessness and view the splendor of the Earth from space. The British billionaire hopes to offer tickets aboard his spacecraft at a cost of 200,000 dollars each, giving adventurous ... Read full Blog post
Indonesia Eco Tourism
Tour Itenaray Day 01 BALI - LABUAN BAJO – RINCA ISLAND – KOMODO ISLAND (L.D) Pick up from your hotel in Bali and transfer to the airport, for flight to Labuan Bajo (West Flores) for approximately one and half hours. On arrival in Labuan Bajo airport, will be welcomed and met with our local representative or tour guide. Than transfer to the harbour to catch a boat cross to Rinca ... Read full Blog post
San Gimignano and San Pellegrino
Night falls on the flourishing and industrious San Gimignano, its 72 towers stand on the low roofs of the houses lit by the moon. This is not a luxury travel spot but is something you don't see every day. In the distance the clatter of hooves echoed tired in the Via Francigena. The hand of the blacksmith stops beating, the frame of the weaver becomes silent, the streets of the tank only a concert ... Read full Blog post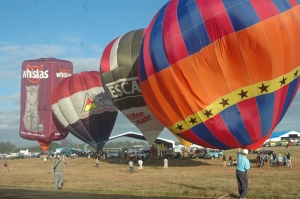 An Aerial fiesta in Clark Pampanga
Its a party in the sky as multi colored hot air balloons piloted ny different pilots from various partso of the world participated in this annual gathering. As early as 5am, the 2,500 hectare aviation complex at Clar Economic Zone in Pampanga was already crammedi with excitement. Clusters of hot air balloon participants busily prepare their own balloons for liftoff as they need to take advantage of ... Read full Blog post