48HourVisit.com

Planning a short visit? Check out

48HourVisit.com

, your online guide for short stays and weekend getaways.

Ad

The Glossary

boom-booms - "motorboats"
Bikini Atoll Travel Guide

/
South Pacific
/
Marshall Island
/
Bikini Atoll
/ Introduction
The bikini swimwear is a French invention but it was named after Bikini Atoll, an omnibus of 23 islands surrounding a 230-square-mile lagoon in the Pacific Ocean. Apart from being the bikini's namesake, Bikini Atoll is well-known as the firing range of at least 20 nuclear bombs. These days, the Atoll is a graveyard of Second World War battleships and a playpen of giant sharks, which propel the adrenaline of curious divers, if not that of tourists.
German navigator Otto von Kotzebue first named Bikini Atoll as Eschscholtz Atoll, after German scientist Johann Freidrich von Eschscholtz who discovered some species in the atoll. The atoll's original Marshallese inhabitants then christened the area "Bikini," from pik (surface) and ni (coconut). In 1946, days after the US nuclear test on the island, the atoll's name was in the news because a new swimsuit was named after it. The two-piece bikini was said to "Split the atome," and it was advertised as the world's "smallest bathing suit."
In 1954, the US set off its first hydrogen bomb and the largest nuclear explosion, Castle Bravo, which had a force of a thousand Hiroshima-type bombs. It pulverized two of the atoll's islands and created a mile-wide crater in the lagoon floor. Radioactive contamination exposed the atoll's indigenous population who were transferred to Rongerik Atoll before the tests to nuclear fallout. Some natives died of leukemia shortly after Bravo, while others suffered miscarriages and defective pregnancies.
Among those contaminated were the crewmen of the Japanese fishing boat Lucky Dragon 5, which caused a scandal in Japan and, in turn, inspired the 1954 flick, Godzilla, about a monster created by US nuclear tests.
After a massive clean-up, scientists assure that it is now safe to walk on the atolls, except for some islands replete with nuclear residue. The waters have also been declared safe, encouraging some divers to make an extensive tour of submerged WWII battleships. Nonetheless, transport services to and from the area remain limited and locally-grown fruits still have radiation risks. As a result, Bikini Atoll remains uninhabited and sparsely visited.
User blogs:
Cheaper galactic spaceliner unveiled
News from http://news.ph.msn.com/top-stories/article.aspx?cp-documentid=3737940 Richard Branson unveiled Monday a commercial spaceliner offering tourists a cheaper chance to experience the thrill of weightlessness and view the splendor of the Earth from space. The British billionaire hopes to offer tickets aboard his spacecraft at a cost of 200,000 dollars each, giving adventurous ... Read full Blog post
Indonesia Eco Tourism
Tour Itenaray Day 01 BALI - LABUAN BAJO – RINCA ISLAND – KOMODO ISLAND (L.D) Pick up from your hotel in Bali and transfer to the airport, for flight to Labuan Bajo (West Flores) for approximately one and half hours. On arrival in Labuan Bajo airport, will be welcomed and met with our local representative or tour guide. Than transfer to the harbour to catch a boat cross to Rinca ... Read full Blog post
San Gimignano and San Pellegrino
Night falls on the flourishing and industrious San Gimignano, its 72 towers stand on the low roofs of the houses lit by the moon. This is not a luxury travel spot but is something you don't see every day. In the distance the clatter of hooves echoed tired in the Via Francigena. The hand of the blacksmith stops beating, the frame of the weaver becomes silent, the streets of the tank only a concert ... Read full Blog post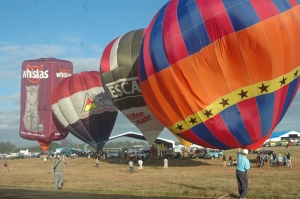 An Aerial fiesta in Clark Pampanga
Its a party in the sky as multi colored hot air balloons piloted ny different pilots from various partso of the world participated in this annual gathering. As early as 5am, the 2,500 hectare aviation complex at Clar Economic Zone in Pampanga was already crammedi with excitement. Clusters of hot air balloon participants busily prepare their own balloons for liftoff as they need to take advantage of ... Read full Blog post