48HourVisit.com

Planning a short visit? Check out

48HourVisit.com

, your online guide for short stays and weekend getaways.

Ad

The Glossary

Ringgit - "Malaysian currency."
Putra Jaya Travel Guide

/
Asia
/
Malaysia
/
Putra Jaya
/ Introduction
Dubbed as Malaysia's first "Intelligent Garden City," Putrajaya assumes the role of a model city, the nerve center of the state and the ideal metropolis to live, work do business and play. Formerly known as Prang Besar, the city is named after the first Malaysian Prime Minister, Tunku Abdul Rahman Putra: "putra" means princess while "jaya" means success. The city is positioned for success as massive development in information technology happens in Cyberjaya nestled within the Multimedia Super Corridor west of Putrajaya.
Though Putrajaya may seem to be devoted to IT and advanced engineering concepts, many of its mammoth structures-which have a decidedly Islamic influence-are temples (Masjid Besi and Masjid Putra) and several government offices (Perdana Putra, Wisma Putra, Istana Darul Ehsan and Melawati) which are administrative in function. The residence of the royal family, however, still remains in Kuala Lumpur.
Currently, condominiums are being built around the area to accommodate the growing work force who will man the government offices and IT departments. As a carefully master-planned community, Putra Jaya will not have the chaos of other urban areas. As such, a stroll along the elevated Taman Putra Perdana or a cruise and the man-made Putrajaya Lake by means of a gondola-like perahu boat will remain as quiet and leisurely activities.
Putra Jaya Landmarks:
User blogs:
VEDDHAS IN SRI LANKA
The term Vadda must have derived form the Pali and Sanskrit word Vddha meaning hunter or huntsman.According to Wilhelm Geiger Vaddas of Sri Lanka were an aboriginal tribe perhaps related to the ancient tribes of south India. They were inhabiting the island long before the coming of Aryans an had spread all over the island and later confined only to Vadi rata or Maha Vadi rata consisting of ... Read full Blog post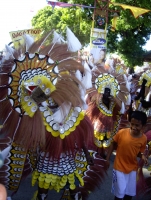 Ati-atihan in Kalibo Aklan
Ati-atihand origins ccan be traced to 1210 when refugees from Borneo would smear their faces with soot in affectionalte immitation of the Filipino natives The island of Panay in the Visayas is where this particular detail of Philipine history took place sometime ih the late 12th or early 13th century. For centuries hence, it has been commemoratged in one specific place - in Kalibo, the capital ... Read full Blog post
Amorgos | An unusualy beautiful island in Greece
At the eastern end of the Cyclades, next to the Dodecanese islands, with its elongated shape and the rocky nature, Amorgos is 138 nautical miles from Piraeus (about 9 hours by ferry) and has an area of ??134 square kilometers. According to a financial blog they are investing in many tourist attractions and amenities. If you decide to get there from Piraeus the trip is much easier, since you ... Read full Blog post
San Gimignano and San Pellegrino
Night falls on the flourishing and industrious San Gimignano, its 72 towers stand on the low roofs of the houses lit by the moon. This is not a luxury travel spot but is something you don't see every day. In the distance the clatter of hooves echoed tired in the Via Francigena. The hand of the blacksmith stops beating, the frame of the weaver becomes silent, the streets of the tank only a concert ... Read full Blog post