48HourVisit.com

Planning a short visit? Check out

48HourVisit.com

, your online guide for short stays and weekend getaways.

Ad

The Glossary

Arak - "a triple-distilled spirit of grapes and is famous throughout the Middle East. It is colorless like water and tastes of aniseed which is introduced at the third distillation."
Zahle Travel Guide

/
Middle East
/
Lebanon
/
Zahle
/ Introduction
The queenly town Zahle is known as the city of "Wine and Poetry," a Greek Catholic town sans the conservative, often conformist, attitude of the Baalbek, brazen with a spirit of the bustling Beirut but with a regal haste. It is also known as the bride of Beqaa Valley (Arouss El-Beqaa). Tourists and locals alike appreciate its inviting climate and mouth-watering cuisine. Aside from this, Zahle has been a playground of some 50 poets and writers who have contributed to Lebanon's cultural and political growth.
The major attraction of Zahle is the Bardaouni River known as Wadi El-Arayesh (Grape Vine Valley), which flows out of Mt. Sannine through a forested gorge shut in between tall perpendicular rocks. Its elaborate Ottoman houses line like armored sentinel guarding the riverside of Litani. Famous samples in the town provide a good glimpse of Zahle's architecture. The restored Geha house in the old town houses a vast courtyard, a manicured garden and arched upper galleries - all typical of 17th century architecture. Other private residences in the same area are the lovely Al-Hindi, Youssef Azar and Wadih Skaf houses. These are several hundred years old and have been designed with walkways and walled gardens.Many of the old buildings, embroidered by carved ceilings, vaulted interiors and ornate façades, still stand up to this day. These structures, however, are somewhat obscured by modern shop fronts, but projects of restoration are afoot in the area.
One can also test some of the famous restaurants tucked beside the river, which are popular in the evenings when dinners can become quite celebratory. Out of the city, the festive mood permeates in the Souk Al-Blatt and the Housh El-Zarani where woodworkers, weavers and saddle makers gather to trade their agricultural and industrial products.
Zahle Landmarks:
User blogs:
Cheaper galactic spaceliner unveiled
News from http://news.ph.msn.com/top-stories/article.aspx?cp-documentid=3737940 Richard Branson unveiled Monday a commercial spaceliner offering tourists a cheaper chance to experience the thrill of weightlessness and view the splendor of the Earth from space. The British billionaire hopes to offer tickets aboard his spacecraft at a cost of 200,000 dollars each, giving adventurous ... Read full Blog post
Indonesia Eco Tourism
Tour Itenaray Day 01 BALI - LABUAN BAJO – RINCA ISLAND – KOMODO ISLAND (L.D) Pick up from your hotel in Bali and transfer to the airport, for flight to Labuan Bajo (West Flores) for approximately one and half hours. On arrival in Labuan Bajo airport, will be welcomed and met with our local representative or tour guide. Than transfer to the harbour to catch a boat cross to Rinca ... Read full Blog post
San Gimignano and San Pellegrino
Night falls on the flourishing and industrious San Gimignano, its 72 towers stand on the low roofs of the houses lit by the moon. This is not a luxury travel spot but is something you don't see every day. In the distance the clatter of hooves echoed tired in the Via Francigena. The hand of the blacksmith stops beating, the frame of the weaver becomes silent, the streets of the tank only a concert ... Read full Blog post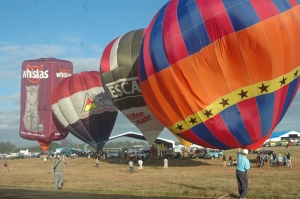 An Aerial fiesta in Clark Pampanga
Its a party in the sky as multi colored hot air balloons piloted ny different pilots from various partso of the world participated in this annual gathering. As early as 5am, the 2,500 hectare aviation complex at Clar Economic Zone in Pampanga was already crammedi with excitement. Clusters of hot air balloon participants busily prepare their own balloons for liftoff as they need to take advantage of ... Read full Blog post