48HourVisit.com

Planning a short visit? Check out

48HourVisit.com

, your online guide for short stays and weekend getaways.

Ad

The Glossary

Arak - "a triple-distilled spirit of grapes and is famous throughout the Middle East. It is colorless like water and tastes of aniseed which is introduced at the third distillation."
Baalbek Travel Guide

/
Middle East
/
Lebanon
/
Baalbek
/ Introduction
Amid the screeching noise of jet fighters and bombers which encapsulates the atmosphere of the troubled Middle East, lies the unperturbed town of Baalbek, which still draws a large number of tourists. This wonder of the classical world is now famous more for its great engineering feats and fine architectural wonders.
Scattered across the wide area are the cyclopean wall of a great platform and gigantic stone podiums of the Temple of Jupiter straddling two smaller temples - one dedicated to Venus and the other to the god of fertility and good cheer, Bacchus. Nearby is a limestone quarry that leads to an even larger building block known as Harjar el Gouble, popularly known as the Stone of the South and the Hajar el Hibla (The Stone of the Pregnant Woman).
A small city laced lying along the trading route to Damascus through the Bekaa Valley, Baalbek is believed to have no special religious significance apart from the fact that this is the center of a burial region. The ruins of a colossal platform, megaliths and trilithon, however, have given rise to conjectures about giants, deities and a still undisclosed culture. In fact, the site is one of the most extraordinary and enigmatic places of ancient times. The atmosphere of mystery that hovers over the place is due to the lack of any definite knowledge about the construction of the several structures.
While high-tech and computer programmed jet fighters scream throughout Baalbek, there is not a crane today that can even think of lifting the massive 1000 ton structures. We can only gaze at them and wonder how the builders of the massive structures managed to position these stones in such accurate precision that not even a needle can be inserted between them. Both the visitors and the inhabitants constantly ask the question who built these spectacular masterpieces and when.
Sadly, nobody knows who the builders of such marvelous feats of engineering were.
Baalbek Landmarks:
User blogs:
Cheaper galactic spaceliner unveiled
News from http://news.ph.msn.com/top-stories/article.aspx?cp-documentid=3737940 Richard Branson unveiled Monday a commercial spaceliner offering tourists a cheaper chance to experience the thrill of weightlessness and view the splendor of the Earth from space. The British billionaire hopes to offer tickets aboard his spacecraft at a cost of 200,000 dollars each, giving adventurous ... Read full Blog post
Indonesia Eco Tourism
Tour Itenaray Day 01 BALI - LABUAN BAJO – RINCA ISLAND – KOMODO ISLAND (L.D) Pick up from your hotel in Bali and transfer to the airport, for flight to Labuan Bajo (West Flores) for approximately one and half hours. On arrival in Labuan Bajo airport, will be welcomed and met with our local representative or tour guide. Than transfer to the harbour to catch a boat cross to Rinca ... Read full Blog post
San Gimignano and San Pellegrino
Night falls on the flourishing and industrious San Gimignano, its 72 towers stand on the low roofs of the houses lit by the moon. This is not a luxury travel spot but is something you don't see every day. In the distance the clatter of hooves echoed tired in the Via Francigena. The hand of the blacksmith stops beating, the frame of the weaver becomes silent, the streets of the tank only a concert ... Read full Blog post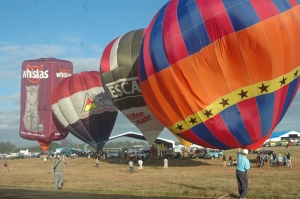 An Aerial fiesta in Clark Pampanga
Its a party in the sky as multi colored hot air balloons piloted ny different pilots from various partso of the world participated in this annual gathering. As early as 5am, the 2,500 hectare aviation complex at Clar Economic Zone in Pampanga was already crammedi with excitement. Clusters of hot air balloon participants busily prepare their own balloons for liftoff as they need to take advantage of ... Read full Blog post