48HourVisit.com

Planning a short visit? Check out

48HourVisit.com

, your online guide for short stays and weekend getaways.

Ad

The Glossary

Arak - "a triple-distilled spirit of grapes and is famous throughout the Middle East. It is colorless like water and tastes of aniseed which is introduced at the third distillation."
Bcharre Travel Guide

/
Middle East
/
Lebanon
/
Bcharre
/ Introduction
Like the intoxicating effect of the famous arak, the town famously known as the birthplace of Khalil Gibran, is extremely beautiful at first sight. Bcharré's façade is a montage of an evergreen forest of cedars and a snow-capped mountain that, after gently sloping for some distance, towers above the cliffs of Qadisha Valley. This Maronite town provides some of the most dramatic scenery in the whole Lebanon and is the perfect place to stop on the way from the demure and down-to earth Tripoli to the Sun-City of Baalbek.
The road leading to Bcharre offers some of the most ravishing mountain landscape in Lebanon where spectacular gorges and peaks rise amid the villages of red-tile roofed houses perched at the top of the hills or clinging precariously to the mountainsides as well as olive groves, vineyards and valleys that rise higher and higher at every turn.
A tour is possible through the villages around the horseshoe-shaped rim of Qadisha. The Hadeth Al-Jubbeh is the first village on the south of Bcharre which dates back to around the 6th century A.D. while Diman, the residence of the Maronite Patriach, is a 19th century village that overlooks the Monastery of Qannoubin which is the seat of the Maronite Patriarchy. A steep path will lead to Hasroun, a pastoral but picturesque village dotted with old churches and verdant gardens.
The "must see" sights, however, are the museum of Khalil Gibran (nestled inside the town) and the Cedar Reserve, located a few kilometers up the mountain of Jebel Makhal in Edhen. North of the Cedar Reserve lies the Cedar Ski Area, the oldest ski district in Lebanon that boasts of a challenging terrain. It is not quite developed but this will thrill the ski buffs out there.
The serenity of the town was shaken during the advent of the civil war when Bcharré became a bastion of Christian resistance against the Syrians. Today, however, the town has managed to bring back its equilibrium and is now a frequented tourist zone.
Bcharre Landmarks:
User blogs:
Cheaper galactic spaceliner unveiled
News from http://news.ph.msn.com/top-stories/article.aspx?cp-documentid=3737940 Richard Branson unveiled Monday a commercial spaceliner offering tourists a cheaper chance to experience the thrill of weightlessness and view the splendor of the Earth from space. The British billionaire hopes to offer tickets aboard his spacecraft at a cost of 200,000 dollars each, giving adventurous ... Read full Blog post
Indonesia Eco Tourism
Tour Itenaray Day 01 BALI - LABUAN BAJO – RINCA ISLAND – KOMODO ISLAND (L.D) Pick up from your hotel in Bali and transfer to the airport, for flight to Labuan Bajo (West Flores) for approximately one and half hours. On arrival in Labuan Bajo airport, will be welcomed and met with our local representative or tour guide. Than transfer to the harbour to catch a boat cross to Rinca ... Read full Blog post
San Gimignano and San Pellegrino
Night falls on the flourishing and industrious San Gimignano, its 72 towers stand on the low roofs of the houses lit by the moon. This is not a luxury travel spot but is something you don't see every day. In the distance the clatter of hooves echoed tired in the Via Francigena. The hand of the blacksmith stops beating, the frame of the weaver becomes silent, the streets of the tank only a concert ... Read full Blog post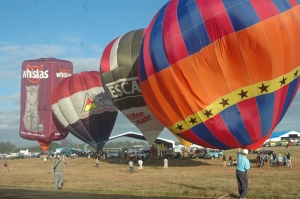 An Aerial fiesta in Clark Pampanga
Its a party in the sky as multi colored hot air balloons piloted ny different pilots from various partso of the world participated in this annual gathering. As early as 5am, the 2,500 hectare aviation complex at Clar Economic Zone in Pampanga was already crammedi with excitement. Clusters of hot air balloon participants busily prepare their own balloons for liftoff as they need to take advantage of ... Read full Blog post