48HourVisit.com

Planning a short visit? Check out

48HourVisit.com

, your online guide for short stays and weekend getaways.

Ad

The Glossary

pinisi - "traditional trade boat"
Although not big on sights except for a few structures of Dutch colonial architecture and religious temples, Medan, the capital of North Sumatra, is big on appetite. No single ethnic group exists in this city. The Chinese, Javanese, Minangkabau, Toba-Batak, and many other ethnicities, brought in thousands of their native dishes into this city, dubbed the third-largest in Indonesia. From the sweet Javanese food, to the succulent Batak grilled pork, the savory Chinese noodles, the spicy Indian curry, and the sizzling Padang delicacies, the food trip never stops, 24 hours a day, seven days a week.
Medan's culinary variety is matched by its diversity of architectural styles. The old City Hall, the Titi Gantung (bridge over railway), the Central Post Office and the city's icon, the Water Tower, are examples of traditional architecture rendered in Dutch colonial fashion. There are also the Maimum Palace or Istana Maimun (Sultan's Palace) and the Great Mosque or Masjid Raya, which are samples of the city's Islamic influence, while Vihara Borobudur, Vihara Gunung Timur, and Shri Mariaman are temples that respectively represent Buddhist, Chinese and Hindu architecture.
Medan Landmarks:
User blogs:
Cheaper galactic spaceliner unveiled
News from http://news.ph.msn.com/top-stories/article.aspx?cp-documentid=3737940 Richard Branson unveiled Monday a commercial spaceliner offering tourists a cheaper chance to experience the thrill of weightlessness and view the splendor of the Earth from space. The British billionaire hopes to offer tickets aboard his spacecraft at a cost of 200,000 dollars each, giving adventurous ... Read full Blog post
San Gimignano and San Pellegrino
Night falls on the flourishing and industrious San Gimignano, its 72 towers stand on the low roofs of the houses lit by the moon. This is not a luxury travel spot but is something you don't see every day. In the distance the clatter of hooves echoed tired in the Via Francigena. The hand of the blacksmith stops beating, the frame of the weaver becomes silent, the streets of the tank only a concert ... Read full Blog post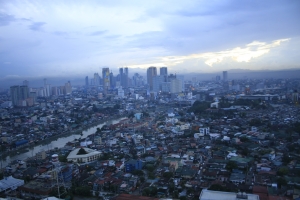 Moving to Manila
It was about a year ago, when I received phone call from my hubby asking me what do I think about Manila. I wasn't sure, I said I've been there before, memories rush to the surface of my mind. Crowded roads of jeepneys, the smell of exhaust, constant horning, traffic jams, YMCA's hotel, people selling food from small carts....I stayed only a day in Manila before heading down to Boracay about 12 years ... Read full Blog post