48HourVisit.com

Planning a short visit? Check out

48HourVisit.com

, your online guide for short stays and weekend getaways.

Ad

The Glossary

lada - "blue taxis, the most common way to tour Ethiopia"
Semien Mountains Travel Guide

/
Africa
/
Ethiopia
/
Semien Mountains
/ Introduction
A spectacular mountain scenery draws hikers and campers alike to Simien Mountains, Ethiopia's biggest mountain range and one of the very few spots in Africa where snow regularly falls. A World Heritage Site, Simien is home to exotic wildlife like the Simien Wolf, the world's rarest canid; the indigenous Gelada Baboon, which welcomes hikers by the hundreds; and the rare, large-horned Walia Ibex, which can be found along the same level as a mountaintop lodge that proclaims itself as the "highest hotel in Africa."
Simien's Ras Dashen is the country's highest peak, although other pinnacles like Imet Gogo and Inatye are more preferred by adventurers for giving them the thrill of seeing rock faces falling away thousands of feet into the ground as they trudge the slopes. Although rugged and high, the boondocks are dotted with communes linked by tracks, which don panoramic precipices overlooking the Abyssinian abyss.
Nearby Simien is Debark, the Simien National Park's main town, where hikers arrive by car or bus from big cities like Aksum and Gonder. Debark has dormitories, campsites and huts where travelers usually do their pre- or post-climb lodging as well as shopping for mountaineering essentials like a woven gabi (thick shawl), needed to battle the mountains' chilly nights. A yummy cup of Ethiopian coffee or beer can also help in fighting the cold. Atop the mountain, live chickens and eggs can be purchased from the villagers for food.
Be it a five-day walk to Chenek or a two-day four-wheel drive in Sankaber, travelers may find Simien a refreshing break before or after touring Ethiopia's geological circuit.
User blogs:
Cheaper galactic spaceliner unveiled
News from http://news.ph.msn.com/top-stories/article.aspx?cp-documentid=3737940 Richard Branson unveiled Monday a commercial spaceliner offering tourists a cheaper chance to experience the thrill of weightlessness and view the splendor of the Earth from space. The British billionaire hopes to offer tickets aboard his spacecraft at a cost of 200,000 dollars each, giving adventurous ... Read full Blog post
Indonesia Eco Tourism
Tour Itenaray Day 01 BALI - LABUAN BAJO – RINCA ISLAND – KOMODO ISLAND (L.D) Pick up from your hotel in Bali and transfer to the airport, for flight to Labuan Bajo (West Flores) for approximately one and half hours. On arrival in Labuan Bajo airport, will be welcomed and met with our local representative or tour guide. Than transfer to the harbour to catch a boat cross to Rinca ... Read full Blog post
San Gimignano and San Pellegrino
Night falls on the flourishing and industrious San Gimignano, its 72 towers stand on the low roofs of the houses lit by the moon. This is not a luxury travel spot but is something you don't see every day. In the distance the clatter of hooves echoed tired in the Via Francigena. The hand of the blacksmith stops beating, the frame of the weaver becomes silent, the streets of the tank only a concert ... Read full Blog post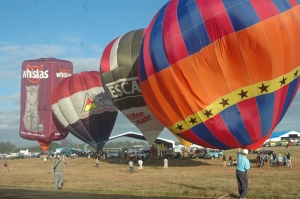 An Aerial fiesta in Clark Pampanga
Its a party in the sky as multi colored hot air balloons piloted ny different pilots from various partso of the world participated in this annual gathering. As early as 5am, the 2,500 hectare aviation complex at Clar Economic Zone in Pampanga was already crammedi with excitement. Clusters of hot air balloon participants busily prepare their own balloons for liftoff as they need to take advantage of ... Read full Blog post